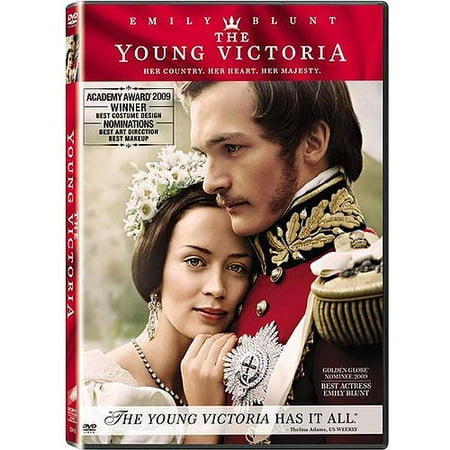 About this item
The Young Victoria [DVD]
SONY HOME PICTURES ENT.
Movies
Customers also viewed these products

Customers also bought these products

Customer Reviews | 17 reviews | 4.8 out of 5
Summary of Young Queen Victoria's Life
Customer review by
An anonymous customer
I am a HUGE fan of historical/period/costume dramas; so after viewing the trailer online, I knew this would be something I would be interested in! Having already seen "Mrs. Brown" (starring Dame Judi Dench, and Bill Connolly), and "Victoria & Albert" (starring Victoria Hamilton, and Jonathan Firth- yes, Colin Firth's brother)- I already knew a little history of H.M. Queen Victoria. Despite a couple of inaccuracies (such as Albert being shot), I still found the film very enjoyable. This was only the 2nd film I had seen either of the two leads in. Emily Blunt in "The Devil Wears Prada", and Rupert Friend in "Pride & Prejudice" 2005. Being that both of those roles were only supporting characters at best, I guess I wasn't sure what to expect. I was pleasantly surprised though, to see both of them shine in their roles (Emily especially)!! My only complaint is that it was over too soon! (But since the title is "The YOUNG Victoria"- I guess it stands to reason.) If you're interested in learning more, I would recommend viewing the two films I mentioned earlier. The cinematography was beautifully done; the locations, and costumes are breathtaking! Also, it's only got a PG rating!!
Customer Q&A
Questions & Answers
0

questions
Ask a question
If you would like to share feedback with us about pricing, delivery or other customer service issues, please contact customer service directly.
---
Thank you.
Questions will be checked against our question guidelines and posted within five to seven business days.
Consider these popular products