Whitmor Small White Household Cart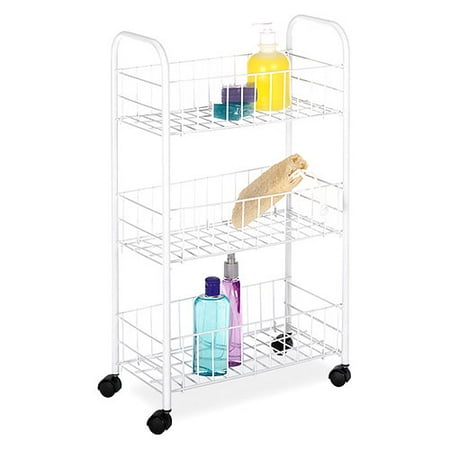 About this item
Only eight inches wide and a little over two feet tall, this handy rolling household cart is shaped to fit tight spaces.
Customers also considered
About this item
Best seller ranking:
#4,073

in
#263

in
#126

in
Customer Reviews | 195 reviews | 2.8 out of 5
Cheap cart that meets expectations
Customer review by
Anwyn
I have limited counter space and storage in my bathroom so I was in the market for a thin cart for my bathroom to hold the various bathroom products. I also didn't want to spend too much money on it either. The dimensions of this cart fit the bill. I found this cart and was originally very put off by the reviews. After reading several of them, I got a better idea of what I was getting into and ordered one anyways. It's not high quality and it is very flimsy. Assembly was a pain in the butt, especially if you are putting it together yourself. I expected that though. If you assemble and use the product as it is, by itself, it is definitely not worth it. However, the use of a few zip ties (as recommended by other reviewers) to keep the shelves secured to the frame makes it sturdy enough to hold the items that I need it to hold. All in all, it's not the best right out of the box, but it is totally worth it if you're willing to add a bit to it (zip ties), it works out really well.
Not worth the frustration of putting it together
Customer review by
Sherlockett
If you buy this cart have two people put it together. I did it myself and it took almost 2 hours. It does not have holes or screws to insert the wire shelves in to connect the sides. So you get one side on and the other side falls off. I had to use the plastic wire holders and bind each side on the three level to keep the cart from falling apart. The wheels are another problem. When you push them in they don't go in so you have to be careful. If you push too hard the black part at the bottom of the leg falls of so when you put the metal part of the wheel leg in they both fall off. I glued the black part into the wheel socket. The wire cart is not too strong. I have it up now it does not look bad. I clipped all the plastic wire holder off the cart. No instructions come with the cart only pictures. I got the cart quicker from Walmart and I picked it up at their store. That is the good thing about it. It took a lot out of me to finally get it together, I thought I was going to croak before I finished. Oh well you get what you pay for.
Customers also viewed these products