Weider Power Tower with Four Workout Stations and 300 lb. User Capacity
Item not available with current selections
How do you want your item?
Packaging note:
Ships in the manufacturer's original packaging, which may reveal the contents.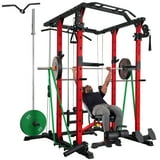 Sponsored
ELEVTAB Power Rack Cage, 1400 lbs Weight Rack with Cable Crossover Machine,Multi-Function Squat Rack with J Hooks,Dip Bars and Landmine for Home Gym (Red)
5 out of 5 Stars. 2 reviews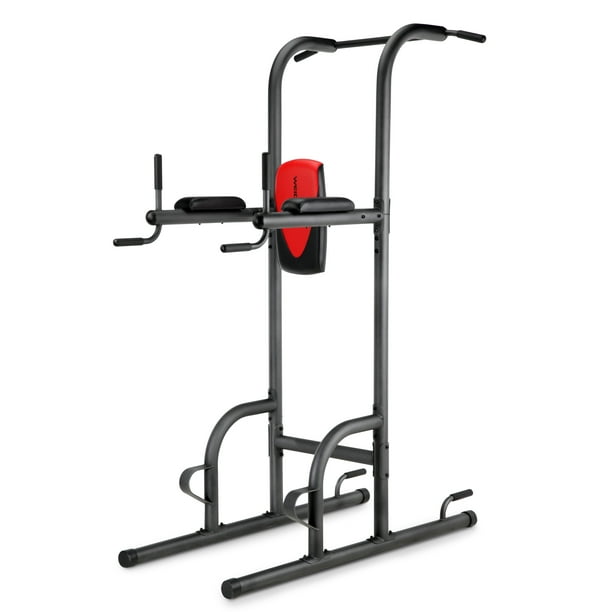 About this item
Product details
The Weider Power Tower provides a combination of comfort and practical utility. Supplement or replace your gym membership with this innovative piece of fitness equipment. Use the Power Tower to train your entire body. Get more out of your push-up workout with molded hand grips. Engage and train your lats, biceps, and forearms at the pull-up station. Sculpt your chest and triceps at the dip station, fighting against gravity to add mass to your muscles and increase your endurance. The vertical knee raise station allows you to trim your waist and develop your abs, hip flexors, and obliques. Use your body weight, or add dumbbells or weight plates (sold separately) for an added challenge. Sturdy construction and vinyl padding make your Power Tower the perfect workout companion. For over 50 years Weider has built excellent, cost-effective strength training equipment. Invest in the Power Tower and start sculpting yourself like a professional today.
Vertical Knee Raise Station
Strengthen your abdominal muscles
Tone your oblique and hip flexor muscles with every move
Versatile Pull-Up Station
Build lats, forearms, biceps, triceps, wrists, shoulders, and even your core
Improve functional strength to perform daily tasks like, walking, pushing, pulling, and twisting
Built-In Dip Station
Develop improved upper-body strength as you build your triceps, chest, and shoulder muscles
Push-Up Station
Get more out of your push-up workout with the built-in push-up station that features molded hand grips for maximized comfort as you train
300 lb. User Weight Capacity
The Weider Power Tower was designed to support most users for effective bodyweight training in the comfort of your own home gym
90-Day Parts & Labor Warranty
See www.iconservice.com for more information
Footprint:
Model #: WEBE99712
error:
We aim to show you accurate product information.
Manufacturers, suppliers and others provide what you see here, and we have not verified it.  
Specifications
Assembled Product Weight
95 lb
Manufacturer Part Number
WEBE99712
Manufacturer
iFIT Health & Fitness
Weight Bench Type
Power Towers
Dimensions
57L x 41W x 84H inches
Resistance Method
Body Weight
Assembled Product Dimensions (L x W x H)
57.00 x 41.00 x 84.00 Inches
Warnings
CHOKING HAZARD - Children Under 3
This toy is not suitable for ages under 3 years. It contains one or more of the following items: marbles, small ball, or small parts.
Customer reviews & ratings
Most helpful positive review
3 customers found this helpful
Good Product. Great Price...Excellent workout!!
I purchased this product when the gyms closed from the Pandemic. I was looking for something inexpensive and sturdy that would provide the opportunity for a descent workout. I also needed something that would fit into a a small area in my garage. I didn't have high expectations for this product, especially at this price range. I must admit that I have been pleasantly surprised with the Weider Power Tower. I am 6'2" and weigh 205lbs. The Power Tower is sturdy enough to handle my size at all 4 of the stations. It feels solid and sturdy. I don't worry about it breaking apart during my Interval training routine. I read other reviews that mentioned the product was difficult to assemble. I am not handy but am capable of following writt...
Most helpful negative review
1 customer found this helpful
I broke tooth and nail trying to put this thing together screws would not tighten all the way in and now I have a wobbly workout :( Would not recommend buying this thing at all.
Awesome product Easy to assemble I recommend resistance bands if you are a beginner like me so you can use the pull up bar I also recommend a foot stool so you can reqch everything

Omgggg I love this sooo much it came yesterday I put it my self it was pretty easy!!

Sturdy, well built, easy to assemble

Many reviews that I read before I purchased this said that two people to assemble but I had no problem doing it by myself. The instructions were easy unlike another review I saw which said they were terrible. The only problem we see is that there's no adjustment for the arm length of the person using it. My wife has trouble because it's large but fits me fine.

great item. POOR instructions.

I ordered this item to use in my personal training studio. physically, the item works well and feels pretty solid- no complaints on that end. I was able to set it up by myself in about 60 mins. On another note- the instructions were pretty poor. I decided to take tools from my house after looking the instructions over- they suggest to use two open end wrenches. I did this and when I got to tightening the bolts and nuts, it would have taken me at least 2 additional hours to tighten all of them with the open end wrenches. I had to go all the way home, get a socket set and tighten them in a matter of minutes. USE A SOCKET SET to tighten once all complete- not wrenches!!!

Got this pull up tower for my 15yr old son for Christmas. He loved it and so does every one else. Fills sturdy when my 17 and 15 year old sons do pull ups and when I do knee up on the other side. Seems like a jungle gym in the house, very motivational for me because I know I need to work out and seeing my boys exercise just makes me want to join in on the fun. Did my research and was the best deal ever. Heads up never tighten screws until structure is completed.