Verbatim DVD-R Discs, 4.7GB, 16x, Spindle, Silver, 100/Pack
Average rating:

4.5

out of

5

stars
265 reviews
ratings
Walmart #: 564131662
This button opens a dialog that displays additional images for this product with the option to zoom in or out.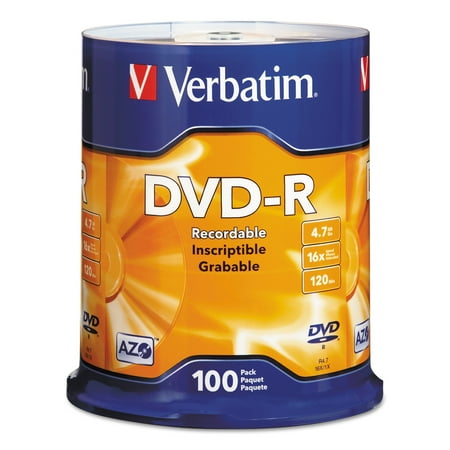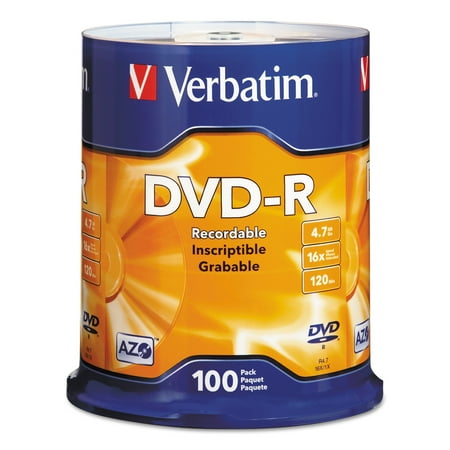 See price in cart
Please add this item to your cart to see the price.
Because this is below the manufacturer's minimum advertised price, they won't let us show it here. If you don't agree it's a great value, you can remove it from your cart at any time.
About this item
4.7GB or 120 minutes of write-once storage capacity.
Superior recording quality and compatibility with 1x to 16x DVD-R writers.
Record a complete 4.7GB/120min disc in approximately 5 minutes.
Model Number: VER95102
About this item
Disclaimer:
While we aim to provide accurate product information, it is provided by manufacturers, suppliers and others, and has not been verified by us. See our
Superior recording quality, and compatibility with 1x to 16x DVD-R writers, allowing users to record a complete 4.7GB/120Min disc in approximately five minutes. Recognized as the choice of professional users, it offers the optimal AZO recording dye, which provides the highest level of read/write performance, reliability, and archival life. DVD-R media is compatible with hardware from most leading drive manufacturers.
Compatible with up to 16x DVD-R hardware.
AZO recording dye optimizes read/write performance.
Ideal for recording up to two hours of DVD-quality home movies and video clips.
Archive and backup, up to 4.7 GB of important data.
Read compatible with most DVD-ROM drives and DVD video players.
Model Number: 95102
Take an interactive tour
Don't just read about this product's features--see for yourself!
Manuals & Guides
Questions & Answers
11 questions
Get specific details about this product from customers who own it.
Questions & Answers
Have a question? Find Answers here or ask a question of your own.
Is this a Digital Audio CD?
I need to know if these will work on a CD Recorder I might purchase. Thank you -
by
An anonymous customer
1/20/2010
10 answers
A.
These are DVD. Why get a CD Recorder when about any computer will record CD or DVD either. CD are primary Audio/ Music or photo files usualy. DVD can do all that , also Video. DVD can record movies and such. DVD hold far more MGBytes than CD.
A.
Buy the Verbatim CD-RW for recording music they are in the green box. You can use your computer to download music burn to these the CD-RW then take it out of your computer and put it in your CD Player and listen to it there.
by
product2review
9/11/2015
A.
These are not CDs, they are DVDs. A CD player will not play a DVD just buy CDs.
A.
a CD recorder...? these are DVDs look for CDs
A.
These are DVD-R for Videos, Movies, and large games or software. You are looking for the CD-R disks, NOT DVD-R. However, you CAN make an MP3 disk with these and play them in an MP3 compatible DVD Player. Something like 8 or more hours of music or audio that way. Again, look for the Verbatim AZO designated CD-R disks!!! These are supposed to have a fifty year or more lifetime.
A.
You should purchase CDs instead of DVDs. The price is different and the reason you need them are different
by
SouthernPrincess83
10/22/2012
A.
This is a DVD, not a CD, so I doubt this will work on a CD Recorder, unless it is also a DVD Recorder.
A.
This will not work on a CD ROM this is for DVD players only.
A.
NO, These are DVD's used for Digital Vidio recordings. You want a CD disk for a CD Recorder.
Is this a Digital Audio CD?
what does +R,RW,-R mean on blank disc
wanting to record family vcr on them
by
mimi
3/17/2013
10 answers
A.
If you mean to transfer VHS tapes to DVD ? ..You would need to play the tapes to "input" of a DVD burner unit. not sure what you want to do.
A.
You cannot rewrite on these. You can only record on -R. To record over an exisiting or erase data you need RW. Not sure about +R you can google it to find out.
by
product2review
9/11/2015
A.
Look at the label at the bottom of the item picture. It is 100 dvds on this spindle.
A.
+R vs -R represent types of formatting. I have used both and never had a problem. However, the -R is the more commonly used format. That is the reason I purchased this product.
A.
+R and -R are like different formats. Some DVD recorders will accept both formats. Some will only accept one or the other. As for the R and RW go whether they are either + or - formats the R only types are the write once only and cannot be erased and rerecorded again while the RW's are the rewriteable kind. I would recommend for the home movies you want to record from the VHS tape are the -R type. Chances are you don't ever want to record over those discs again and plan to keep those recordings forever anyway. It takes a little longer for the recorder to write on a -R or -RW disc than it does on a + R or RW type but the - type seem to work better in the long run on DVD players. I hope this information helps you. Good luck
by
Cartpusherlance
4/4/2014
A.
+rw means you can use more than once - a minus r means you can only burn once
A.
The RW stands for rewritable (you can erase and re record on these disc many times. Theres really no difference between the + and- disc both record the same way, but some dvd players have trouble playing the + disc
A.
-R and +R refer to different formats. Most recorders can use either. RW (rewriteable) means can rerecord on the disc. Typically more expensive than one-time record.
A.
+R and -R refer to the recorder, it will specify which it requires, although newer machines and most computers will accept either, some times -R will be on sale and cost less. These discs can not be re-written, once used they're done, RW discs can be written over and re-used limited times.
A.
Dear Miss Mimi about DVDs well... First DVR-RW means rewritable which is good if you plan to rerecord over them,... but they cost more DVD-R and DVD+ are about the same it depends on your DVD player/burner I personally use DVD-R as I get fewer errors
what does +R,RW,-R mean on blank disc
How many?
The product description is missing some basic information. I searched and searched and I still can't find how many discs are in the pack. Is it 50? 100?
by
dilgil
3/27/2009
10 answers
A.
Verbatim DVD-R AZO is rated #! in the World. Rarely do you get a flawed Disc I use the 100 pack which had a LIFETIME Unlimited Warranty
A.
There is 100 in this spindle pack for about $20. They do however sell them in a 50 spindle pack.
by
product2review
9/11/2015
A.
100 extremely well packed and very high quality DVD-R disks. Make sure your pack has the AZO designation on it!!!
A.
It is the 100 Disk Spindle Pack. That means it contains 100 disks.
by
CowgirlLover
11/25/2012
A.
There are 100 in the pack
A.
This is a pack of 100 dvds.
A.
The label states is contains 100 blank DVDs
How many?