Similar items in stock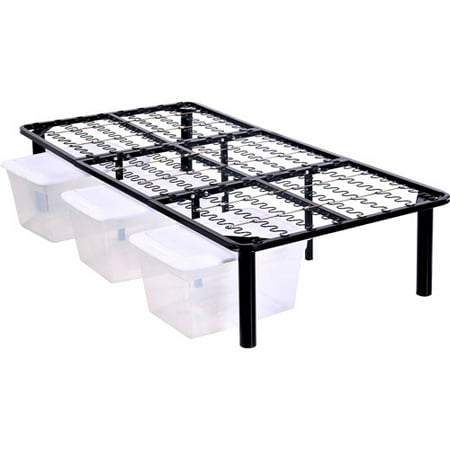 About this item
No box spring needed
Supports up to 600 lbs
Assembly required
Customers also viewed these products

Customer Reviews | 175 reviews | 4.5 out of 5
HEAVY DUTY GREAT BED FRAME!
Customer review by
mindecca
This is one heavy duty /sturdy bed frame. It gives you the added height under the bed to have extra storage . You can buy baskets or plastic containers to SLIDE under the bed, plus you can use it without having to have a box springs OR as I purchased it for it gives you that old antique high bed if you add a box springs to it. Very easy to assemble, just put it together upside down and flip it when fully assembled. This is not your average flimzy bed frame. Heavy duty steel frame with protectors on leg supports so it won't scar your wood floors. Heavy and won't push around on your floors either. No wheels on the bottom legs like a lot of cheap bed frames/ It will stay where put. I would suggest you use a bed shirt/dust ruffle to conceal the heavy black legs. It's not a pretty bed frame but bed frames aren't supposed to be pretty. Durable is what I want and this one is. It even came with the tools necessary for assembly! All you need to add is your head board.
Customer review by
maxikyd
When I opened the box, I was a bit worried--it looked so small, and complicated, because it was split into three, easy to handle (by myself), pieces. I put it together in less than 30 minutes (58 yo female). The bed even came with all of the tools I needed to assemble it. The hardest part was flipping it over after assembly. The corner legs are solid and sturdy, the inner legs are tucked further under the bed to prevent toe-stubbing as I approach the side of the bed to climb in, and also add support in the center of the bed. I have a similar bed frame with legs supported by angle braces which reduce the under bed storage space, both in height and width; not so with this frame, which has a 14" clearance from floor to frame.. All 8 legs are sturdy and solid, and the frame gives great support to my mattress. I highly recommend this frame.
Customers also bought these products