Spring Valley Biotin Softgels, 1000 mcg, 150 count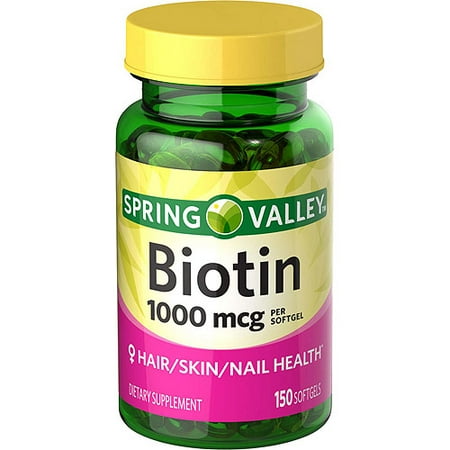 About this item
Biotin is a water-soluble B vitamin
No. 1 vitamin brand
Customers also considered

Customer Reviews | 71 reviews | 4.6 out of 5
Customer review by
Clothshorse58
My fingernails are stronger and grow faster. They used to break and chip. Now I trimmed them more often.
Been using 4 pills a day for the last 5 days
Customer review by
TSRichards
Im a 23 yr old black female with mild adult acne and dark spots on my cheeks. I am always stressed and it shows on my face. Also I got a perm years ago that sat on my hairline too long and caused it to thin. Since taking the pills for only 5 days I can see the hairs filling in. My thinning hairline is not noticeable to others like it is to me. Also my hair is thick, dry, and im constantly trimming my ends. I recently cut my hair short on the sides and back and longer in the front for a different look and want to grow my hair back out healthy and split ends free. My bf has told me that my skin looks clearer. I dont wear any makeup in order to help my skin improve and having a 4 yr old takes up all my money and time. I cut my nails down & wear acrylic nails so I cant speak for it growing nails. But my nails grow fast naturally anyway. I have a bad habit of biting my nails as to why I cut them. I take two pills in the morning & two at nite.
Customers also viewed these products