Sony PS4 DualShock 4 Wireless Controller - Midnight Blue
Prices may vary online, in stores, and in-app
Free shipping,

arrives by Thu, Aug 18

to
Want it faster?
to see options
Free 30-Day returns
More seller options (4)
Starting from $64.00
Protect your purchase
Get the best value on product protection including fast repairs or replacements.
Add Walmart Protection Plan by Allstate

Sponsored
current price $18.99
was $49.99
Wireless Controller Dual Vibration Game Joystick Controller for PS4/ Slim/Pro Compatible with PS4 Console (Steel Black)
5 out of 5 Stars. 10 reviews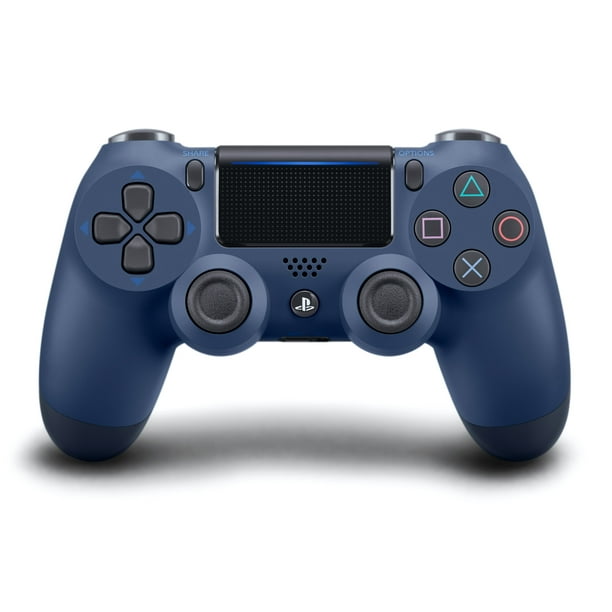 About this item
Product details
Take control of the action with the Sony PlayStation 4 DualShock 4 Controller. It defines this generation of play, combining revolutionary features and comfort with intuitive, precision controls. The wireless design of the Sony PlayStation 4 controller allows for seamless connections with your PS4 game system, so you can get started playing right away. No wires mean no tangles and easy play wherever you are. The evolved analog sticks and trigger buttons allow for unparalleled accuracy with every move while innovative technologies such as the multi-touch, clickable touch pad, integrated light bar and internal speaker offer exciting new ways to experience and interact with your games. With the addition of the Share button, celebrate and upload your greatest gaming moments on PlayStation 4 with the touch of a button. This Sony PlayStation 4 DualShock 4 Controller is a good choice for owners of the console. Everything you need is at the touch of a button.
Sony DualShock 4 Controller, Midnight Blue, PlayStation 4:
The best PlayStation controller — hands down
Near-perfect design tempered by years in the gaming industry
Sony PlayStation 4 controller has a comfortable grip
Intuitive, precision controls and clickable touch pad
Motion-sensing accelerometer and gyroscopic technologies make game play immersive
Dedicated Share button for sharing your screen caps and recorded moments with the PlayStation community
PS Button allows you to turn on the PlayStation 4 console remotely, as well as bring up system menus mid-game for greater flexibility
Beautiful Midnight Blue finish
PS4 DualShock 4 controller has a vibration option during gameplay that is fun and engaging
We aim to show you accurate product information.
Manufacturers, suppliers and others provide what you see here, and we have not verified it.  
Specifications
Video Game Platform
PlayStation 4
Compatible Devices
Video Game Consoles
Assembled Product Dimensions (L x W x H)
7.25 x 6.75 x 2.50 Inches
Warnings
Warning Text
proposition 65 reasons:titanium dioxide, other chemicals
Similar items you might like
Based on what customers bought
Recommended for you
Items that pair well together
Customer reviews & ratings
Most helpful positive review
It came in a bag instead of a box, so the box that contained the controller was damaged. Otherwise this is a genuine ps4 pro controller and it is overall just what I wanted.
Most helpful negative review
Not a real Sony DualShock 4
Buyer beware. I was drawn by this Sony branded alleged DualShock 4 and the better than average price, but this is a fake controller. It shows with all Sony branding, but it's a knock off. A real controller weighs in at ~217 grams. This controller is at 193 grams. Attached are images of my legitimate black Sony DualShock 4 and this red knock off.
Good price, got what I expected.

I purchased the Gold and Midnight Blue. Both were solid and weighed the same as the controller that came with my PS4. Good battery life. Audio through the headphone jack is strong and clear. Controls feel quality. No obvious signs of fraudulent controllers. I am happy with my purchase.

Expensive, but it is real!

The controller is real! It's pretty darn expensive too but it's what you'd expect for an increasingly rare color PS4 controller. If you don't mind spending the money then I say it is worth it. Only think i'm not crazy for with mine is that the PS button is a little spongey on the controller but it still works fine.

Sony Berry Blue ps4 controller

Authentic Sony product nice design beautiful colors all buttons and analog sticks work without any flaws ordered from Walmart shipped by 3rd party arrived pretty fast considering package carriers have been slow at delivering

BRAND NEW SONY CONTROLLER THIS IS WHAT MATTERS

does not matter what the color is !! most important thing is , it is new original ps4 controller, i been around playstation 4 for long enough time , so i know what i am saying, EXCELLENT CONTROLLER

It came in a bag instead of a box, so the box that contained the controller was damaged. Otherwise this is a genuine ps4 pro controller and it is overall just what I wanted.
Popular items in this category
Bestselling items that customers love
Notice unusual marketplace activity?
Report