Mercury Luggage Seward Trunk Stackable Storage Footlocker, 30"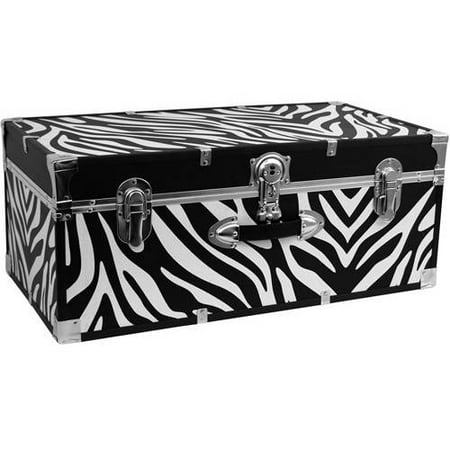 About this item
Storage with style
Durable vinyl covering
Key lock with 2 keys
Zebra
Customers also considered

Check out these related products

About this item
Best seller ranking:
#13,184

in
#836

in
#352

in
Customer Reviews | 26 reviews | 3.9 out of 5
Looks GREAT Outside - Inside? Ehhhhhh . . .
Customer review by
8charms8
I am a university student, and I got this trunk to store some of my personal items under lock and key. This trunk comes with 2 keys to lock the trunk, and there is a lock notch if one desires for a stronger additional lock, but the lock built into the trunk works fine for me. The dorm I am in has a very limited amount of space and this trunk is a great way to maximize the use of that space. When this trunk arrived though, I was glad to see that the paint job on the outside was not sticky or had any unwanted streaks, stratches or spots. INSIDE though, there were holes from the screws and did not look at all as wonderful as the outside had. I plan to purchase some velvety fabric to glue along the inside to improve the appearance. What is more, whenever I bend down to unlock this trunk, the trunk jiggles like a poorly made school-desk - but this may be because I have tile flooring in my dorm and not carpeting. In short, this trunk does it's job - it lookes nice (on the outside) and securely holds your items inside.
Price not worth the value
Customer review by
softballchick4ever
I am a zebra lover and decided to buy this trunk for my dorm. It shipped very quickly but when I pulled it out of the box, the white print was sticky feeling and it was definitely not what I expected. For paying $49 for this trunk I would think it would be better quality. I would recommend buying a cheaper tote without the design, you will probably be more satisfied and save yourself some money.
Customers also viewed these products