Sea Eagle 330 Inflatable Kayak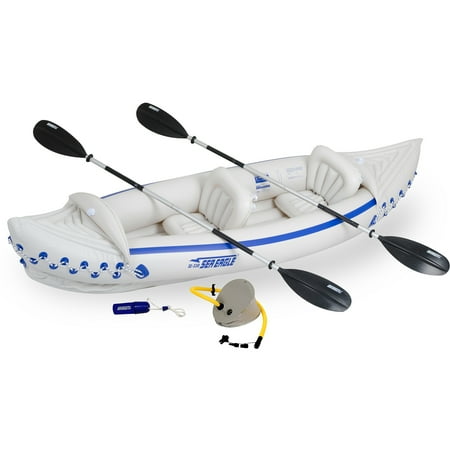 About this item
33 mil Polykrylar hull
I-beam construction floor for extra rigidity
Inflatable spray skirts
Customers also considered
About this item
Best seller ranking:
#1,025

in
#552

in
#58

in
Customer Reviews | 63 reviews | 4.4 out of 5
Customer review by
outdoorsed
I love this boat! I use it on average 3 days a week, I bought a back pack that I can stuff it in to go to remote lakes and ponds, and other times I leave it inflated and just throw it in the back of my truck! at 22lbs its so easy to carry. One time I even biked with it on my back! It sits higher in the water then a hard shell kayak thus you dont get as wet I love love love this boat
Customer review by
SandieL
I have used mine on lakes, rivers, and in whitewater. I love it most in whitewater. This does not keep up in speed to hardshell kayaks, but this is definately a safe kayak to use. I took my 5yr old in class III whitewater with this. It's the ultimate boat in rough waters.
Customers also viewed these products