Samsung 4.1 Channel 200W Soundbar System with Wireless Subwoofer - HW- KM38

Sponsored
current price $159.99
was $249.00
Philips B7305 Dolby Digital 2.1-Channel Soundbar with Wireless Subwoofer
4.9 out of 5 Stars. 15 reviews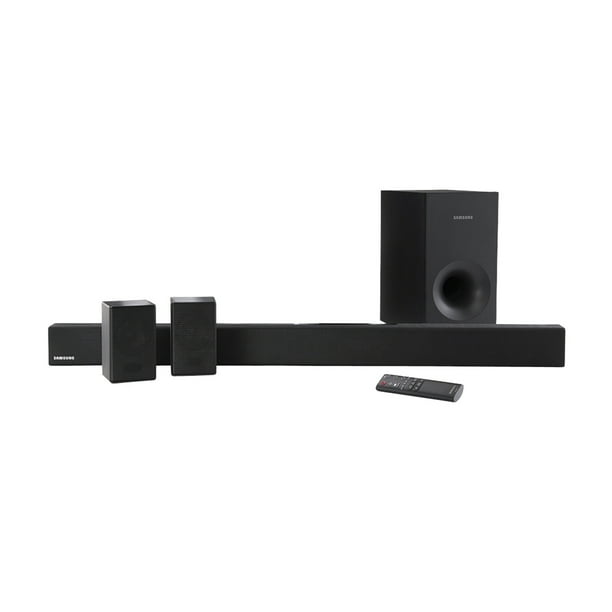 About this item
Product details
Samsung 4.1 Channel 200W Soundbar System with Wireless Subwoofer - HW- KM38
Samsung 4.1 Channel 200W Soundbar System with Wireless Subwoofer - HW- KM38

Key Features:
TV SOUNDCONNECT: Enjoy a clutter-free home entertainment system. TV SoundConnect lets you instantly enjoy movies, music,  and TV shows with more impactful sound.
BLUETOOTH POWER ON: Connect wirelessly for one-touch control of your Soundbar from Bluetooth-compatible devices. Simply select the Soundbar for pairing and power it on automatically to play all your favorite music services and more
REAR WIRELESS SPEAKER KIT INCLUDED: The Samsung 4.1 Channel 200W Soundbar System with Wireless Subwoofer - HW- KM38 includes two wireless rear speakers to deliver the ultimate home cinema surround sound.
4.1 CHANNEL SYSTEM: Enjoy a dynamic home audio experience with 4.1 Channel  surround sound.
DOLBY DIGITAL 2 CHANNEL: Advanced audio processing adapts Digital Theater System sound to your stereo system, creating a truly cinematic digital audio experience. 
We aim to show you accurate product information.
Manufacturers, suppliers and others provide what you see here, and we have not verified it.  
Specifications
Assembled Product Dimensions (L x W x H)
8.27 x 37.99 x 17.87 Inches
Similar items you might like
Based on what customers bought
Customer reviews & ratings
Most helpful positive review
1 customer found this helpful
definitely worth the money.
great for small-to-medium rooms. If you're buying this surround sound for a living room this is definitely a decent option. it's easy setup makes it worth getting. For $168 dollars really makes worth the purchase. what you read is what you get, with the wireless satellite speakers you do not have to run a wire from the Soundbar all the way back to the rear speakers. out of the box you will get three power cords, 1 sub woofer, a satellite receiver, 2 rear speakers, 1 soundbar. this system definitely will not disappoint if you know what exactly you're getting. Pure digital sound. to say this system is Wireless is slightly false only because the satellite speaker amplifier has to be wired to the speakers in the rear of the room which can pose...
Most helpful negative review
Two defective systems in a row
Bought this on Black Friday. It was delivered a day late due to Fedex losing the package. When it did arrive, the box was damaged and half open. We tried to install it anyway. The sound bar and speakers worked great after following the instructions, but the remote would not connect. We called technical support and they determined the remote was defective. Instead of waiting to be sent a new remote, we took the system to the store and exchanged it for a new one. We brought it home, installed it, and the remote still would not work. We called technical support again because we were sure we had to be doing something wrong. Again, they said we needed a new remote. I explained that we'd installed two of these systems in one day and the remote di...
definitely worth the money.

great for small-to-medium rooms. If you're buying this surround sound for a living room this is definitely a decent option. it's easy setup makes it worth getting. For $168 dollars really makes worth the purchase. what you read is what you get, with the wireless satellite speakers you do not have to run a wire from the Soundbar all the way back to the rear speakers. out of the box you will get three power cords, 1 sub woofer, a satellite receiver, 2 rear speakers, 1 soundbar. this system definitely will not disappoint if you know what exactly you're getting. Pure digital sound. to say this system is Wireless is slightly false only because the satellite speaker amplifier has to be wired to the speakers in the rear of the room which can pose...

Everything works good sounds amazing good deal too. subwoofer does it job well. Rear speakers are wired but has Device to hook them into that's Bluetooth so you don't have wires to the sound bar Which is good!

I paired my Samsung sound bar system with a new Samsung TV, (QLED) type. I am here to tell you that it was a great move. The sound bar system really brings the TV experience alive. And there was no waiting either, shipping was fast!

This was a Christmas item for my son. I gave it to him early and so far it has been worth every penny. Great sound great quality just an all-around great product.

I'm very pleased with this purchase. It projects great sound for only being 200 watts. Wireless rear speakers mean that you don't have to worry about running speaker wires to the rear speakers. It has a receiver from which the rear speakers connect to via a cable. Great sound ! You will not be disappointed for the price
More items to consider
Based on what customers bought