Ozark Trail 14.5in Portable Folding Toilet
Pickup

not available

at Sterling Supercenter

Sponsored
AEDILYS Portable Toilet
4.5 out of 5 Stars. 57 reviews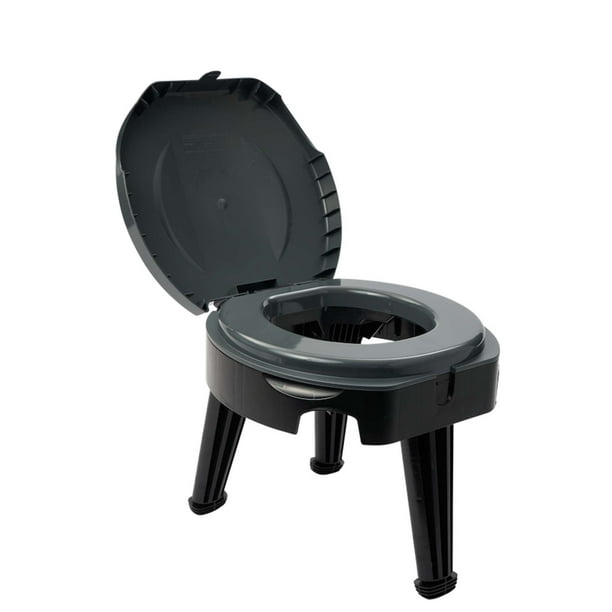 About this item
Product details
The Ozark Trail Fold-to-Go Portable Toilet is just what you need when bathroom facilities are not readily available. Lightweight and portable, the Fold-to-Go is designed to withstand the rigors of outdoor use and is set-up quickly. With a weight capacity of 300 lbs., it is suitable for both adults and children to use. True to its name the Fold-to-Go toilet folds down to just 5" in height and takes up very little space while transporting or storing it. Designed for field use and emergencies, the three lockable legs unfold and snap into place quickly. We recommend a fairly solid surface for when setting it up. Ozark Trail Toilet Waste Bags (sold separately) make clean-up fast and easy. Take the Ozark Trail Fold-to-Go Portable Toilet on all your outdoor adventures, including hiking in the mountains, camping deep in the woods or at home in the event of an emergency.
Ozark Trail Portable Toilet:
Rugged and collapsible;
Durable construction to withstand repeated outdoor use
Folds down to just 5" in height for easy transport and storage
Weight capacity: 300 lbs
Sturdy locking leg system
Easy set-up and knock down
Compatible with Ozark Trail Waste Bags (sold separately)
 
We aim to show you accurate product information.
Manufacturers, suppliers and others provide what you see here, and we have not verified it.  
Specifications
Features
Folding, Lightweight, Lockable, Storage
Assembled Product Weight
5.1 lb
Manufacturer Part Number
9824-41W
Assembled Product Dimensions (L x W x H)
14.50 x 14.50 x 14.50 Inches
Similar items you might like
Based on what customers bought
Customer reviews & ratings
Most helpful positive review
107 customers found this helpful
My best friend and I go camping for 1-2 weeks every year in a national forest and bought one of these 3-4 years ago. We used it constantly while camping (me especially, as I girl I prefer to sit than lean against a tree!) and kept it put up safely the rest of the year unless we went on a random short camping trip. It lasted great up until last year, when one of the legs locking mechanisms broke on us. We duct taped it until we were done camping, then gave it to some homeless friends that loved it and fixed it up. We will be purchasing another one this year before our camping trip next month! The only real annoyances are how low it sits! I am a 5'7 woman and my best friend is a 6'6 guy, so we had to be very careful to sit down slowly so we ...
Most helpful negative review
At least this one isn't good quality
I don't know if I got a lemon or not. When I opened the package, it looks like it fell into a pile of sandpapers and get scratched everywhere. After I take a close look, it was caused by the material. According to my experience, at least this one was made out of recycled plastic. Looks cheap and dirty.
This worked great for us! It was small for travel, easy to set up and the bags were very convenient, easy to use and private....no mess at all. We set it up in a portable changing station/shower while we were camping. We liked the fact that it has a lid you can close and we could use it several times before needing to change the bag. It does sit low to the ground so you have to be physically mobile enough to get down and back up again. With the 3 legs it could get a little tippy if you are on uneven ground while trying to get on or off. We are both in our 60's and thought it was worth the money. It sure beats using pit toilets or some campground toilets.

My best friend and I go camping for 1-2 weeks every year in a national forest and bought one of these 3-4 years ago. We used it constantly while camping (me especially, as I girl I prefer to sit than lean against a tree!) and kept it put up safely the rest of the year unless we went on a random short camping trip. It lasted great up until last year, when one of the legs locking mechanisms broke on us. We duct taped it until we were done camping, then gave it to some homeless friends that loved it and fixed it up. We will be purchasing another one this year before our camping trip next month! The only real annoyances are how low it sits! I am a 5'7 woman and my best friend is a 6'6 guy, so we had to be very careful to sit down slowly so we ...

I had purchased a luggable loo years ago and it worked fine but was wanting a portable toilet that was more compact. I saw this at my local store (which is a bit cheaper than online) and decided to try it. Set up was easy, it did take a bit of muscle to lock the legs in, but not a big deal. I'm sure it will get easier each time. The height is about 13.5 inches off the ground, a bit low for taller people, but not that big a deal as long as your careful sitting down. (If it was a couple inches taller I would have given it 5 stars.) It is very sturdy and will hold a decent amount of weight, at least 200 lbs. (300 lbs might be pushing it) It does come with one double doodie bag and has a carrying handle. Overall good product and would recommend...

good, but needs to be checked before buying

I ordered the portable toilet online but decided to pick it up at my nearest Wallmart to save on the shipping fees. I'm glad I got to see it before I bought it, because the latch that closed the unit down into a compact carrying case, was bent and did not close. Luckily, I learned that this item was also on the shelf in the sporting good department and went to get another to replace it. Unfortunately, one of the two on the shelf also had a latch that did not close, and the other had a handle that was no longer attached to the unit. So I went to another Wallmart on the way home. Amongst the two on the shelf, only one was intact. So I purchased it. I think this is the kind of product that needs to be thoroughly looked over before purchasing....

One leg is broken it doesn't lock there's a lot of superficial scratches on the lid
Recommended for you
Items that pair well together