Garnier® Nutrisse® Ultra Color Nourishing Color Creme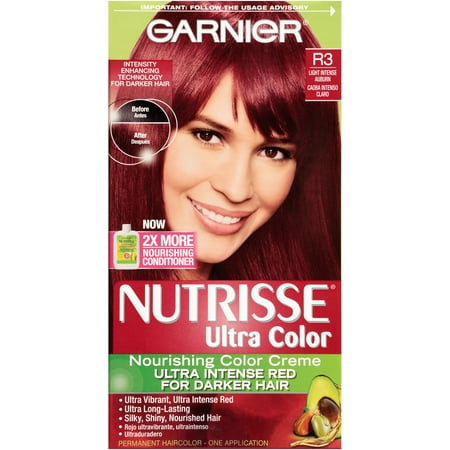 About this item
Permanent, nourishing color creme with three fruit oils: avocado, olive, and shea
Customers also considered

Check out these related products

Customer Reviews | 140 reviews | 3.9 out of 5
AMAZING. RED RED RED HAIR!
Customer review by
An anonymous customer
I used R3 Light Intense Auburn! This product worked TREMENDOUSLY WELL! I still use it and it's been 6 months. The color on the box is actually darker than what the actual outcome is. My hair was a light brown with caramel streaks throughout the bangs, after I dyed my hair with this it became EXTREMELY red, not as red as a SPLAT/Manic Panic dye, but still extremely red for being box dye from Garnier! One of the best reds that I've used! Although red bleeds A LOT when washing out, this one holds extremely well onto my hair! I currently have blonde underneath so I've been afraid to re-dye it due to bleeding, but it's been about 2 months and it's still extremely red even considering that I shampoo it everyday (I do NOT use color protecting shampoo and/or conditioner). Cold, cool, or lukewarm water is good for keeping it red and vibrant!! It covers up my heavy dark brown roots really well also. This product color of red doesn't fade as fast because it is permanent color, also if you know how to take care of it right it also reduces fading. If you're going to dye your hair red, do your research before actually buying the product and doing it!
The Only One that Works For Me
Customer review by
Beauswifey
I've been using this (R3) on my hair for about a year now, and I absolutely LOVE it! In the sunlight, it looks like strands of red Christmas tinsel, and my husband says that when I move, it looks like it's changing color. I'm always getting compliments on the color., and this is the ONLY red hair color that has ever worked on my hair. The only downside is that it takes about a month before I stop seeing red dye in the rinse water whenever I wash my hair. But even then, it still fades very little.
Customers also viewed these products