Quick Dam 6" x 17' Flood Barrier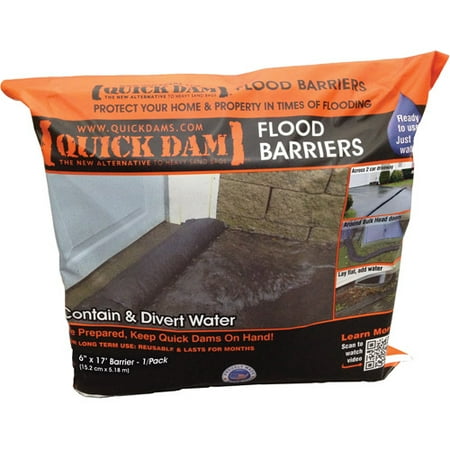 About this item
Protect against flooding
Compact, no need for sand or labor
Activates with water
Customers also viewed these products

Check out these related products

About this item
Best seller ranking:
#1,929

in
#425

in
#12

in
Customer Reviews | 5 reviews | 4.2 out of 5
Customer review by
An anonymous customer
I'm having some work done on my house and yard, and it's rainy season here in Florida. I bought two 17-footers and two 10-footers, and these are doing a great job of controlling water flows during downpours. They work best out in the open, but the end won't make a tight fit up against a wall. In these cases, I've stuffed a bath towel around the end to plug up the tiny spaces. Unpacked, these are very compact, so they're a great item to keep on hand for any unexpected leak. The 5-footer would protect an entry door, the 10-footer a single garage door, and the 17-footer a double garage door. Now that I've seen them at work, I can't imagine living in Florida with some on hand.
Customer Q&A
Questions & Answers
1

questions
Ask a question
If you would like to share feedback with us about pricing, delivery or other customer service issues, please contact customer service directly.
---
Thank you.
Questions will be checked against our question guidelines and posted within five to seven business days.
Consider these popular products