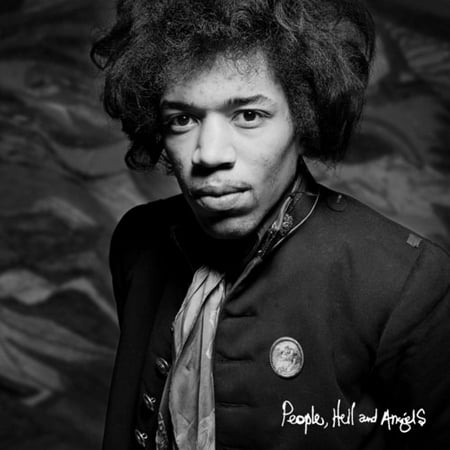 Customers also viewed these products

Check out these related products

About this item
Important Made in USA Origin Disclaimer: For certain items sold by Walmart on Walmart.com, the displayed country of origin information may not be accurate or consistent with manufacturer information. For updated, accurate country of origin data, it is recommended that you rely on product packaging or manufacturer information.
People, Hell And Angels
About this item
Important Made in USA Origin Disclaimer: For certain items sold by Walmart on Walmart.com, the displayed country of origin information may not be accurate or consistent with manufacturer information. For updated, accurate country of origin data, it is recommended that you rely on product packaging or manufacturer information.
People, Hell And Angels
People, Hell and Angels is a collection of quality studio tracks recorded (mostly) in 1968-1969 as the Experience was coming to an end and Jimi was renewing his friendships with Billy Cox and Buddy Miles, who appear here as sidemen on most of these tracks. The surprising thing about this set is not the sound quality (which is exceptional) or that these all sound like finished tracks, but the fact that even avid Hendrix bootleg collectors are unlikely to have heard most of this material. A great version of "Earth Blues" kicks things off with just Jimi, Billy, and Buddy (whose drums were replaced by Mitch Mitchell on the Rainbow Bridge/First Rays version). It's a more forceful take than the other version and also has some different lyrics. "Somewhere" is also a different take than the one used for Crash Landing and, of course, contains the original rhythm section and not the egregious overdubs of Crash Landing. "Hear My Train A Comin'" and "Bleeding Heart" are both taken from Jimi's first session with Billy and Buddy from May of 1969. In the film Jimi Hendrix, "Hear My Train" is played slow on a 12-string acoustic and sung so sadly that you can actually see a tear on Jimi's face as he sings. This version is not only electric and taken at a faster pace than normal, but it's an angry song, this time with a killer solo. "Bleeding Heart" is nice and raw and has a VERY different arrangement than he ever performed live. "Let Me Move You" was recorded with saxman Lonnie Youngblood, who released a couple singles with a pre-Experience Jimi Hendrix on guitar. It's nothing more than an old-school soul jam except the guitar is way more out front. It's a decent track, but doesn't really fit in with the sound of the rest of the album. "Izabella" and "Easy Blues" are rare studio recordings by the Woodstock band (Jimi, Billy, and Mitch Mitchell with Larry Lee on second guitar and Jerry Velez and Juma Sultan on percussion). This version of "Izabella" is now the earliest known recording of the song, while "Easy Blues" is actually a nice jazzy instrumental (previously released in edited form on Nine to the Universe). This version of "Crash Landing" has Jimi and Billy with what is essentially a pickup band. It sounds more like a work in progress than anything else on the set and contains many elements of what would become "Dolly Dagger." "Inside Out" may have been heard by hardcore collectors, but not in this quality. It was originally cut with just Jimi on guitar and Mitch Mitchell on drums, then Jimi added bass and a guitar overdub through a Leslie. It's a great tune and it's always exciting to hear Jimi's bass playing as well. "Hey Gypsy Boy" is very closely related to "Hey Baby," and may have been an early version. On this cut, Jimi's whammy bar work is quite interesting and not his standard dive-bomb approach. "Mojo Man" was actually a Ghetto Fighters tune, recorded at Muscle Shoals. Jimi laid down a couple guitar tracks on top of the existing mix for this track. Kudos to Eddie Kramer for grafting guitar parts on to a fully mixed tune and making it sound great (he really did a spectacular job on this entire set). It's a hot tune with nice syncopated horns, improved by Jimi's addition. The album closes with a brief studio take on "Villanova Junction Blues." People, Hell and Angels certainly isn't the place to start your Hendrix collection, but collectors will surely want to hear this and it provides an interesting perspective on where Jimi's m
Explore this item
| | |
| --- | --- |
| Record Label: | CD |
| Brand: | SONY BMG MUSIC |
| Performer: | Jimi Hendrix |
| Assembled Product Dimensions (L x W x H): | 5.50 x 0.50 x 7.44 Inches |
| | |
| --- | --- |
| 1. | Earth Blues |
| 2. | Somewhere |
| 3. | Hear My Train A Comin' |
| 4. | Bleeding Heart |
| 5. | Baby Let Me Move You |
| 6. | Isabella |
| 7. | Easy Blues |
| 8. | Crash Landing |
| 9. | Inside Out |
| 10. | Hey Gypsy Boy |
| 11. | Mojo Man |
| 12. | Villanova Junction Blues |
Customer Reviews | 3 reviews | 4 out of 5
A must have for the Hendrix lover
Customer review by
kgoodrich85
Not a bunch of unfinished or hard to hear songs like on some "lost song albums" you here from other artist, all complete all great. Rock on Jimi, Rock on
Inferior Versions Of Already Released Songs-Avoid
Customer review by
mccflo99
This is a very disappointing release that is FAR from "12 new studio recordings" as being advertised by Experience Hendrix. Almost all of these songs have been released in far superior versions on readily available retail releases. They have duplicated multiple songs from the Valleys Of Neptune album they put out just a couple of years ago also, including the second single from that album! To Casual Fans – Avoid this release completely. If you are a casual fan of Jimi Hendrix, this release is going to be sorely disappointing to you as almost all of theses songs have been released in superior versions on other retail releases. Additionally, this collection is not a fair representation as to the quality of Jimi's studio material. Go with Are You Experienced, Axis: Bold As Love, Electric Ladyland, or First Rays Of The New Rising Sun. To Completists – Obviously a must-have, but be prepared to be disappointed in order to add this "new studio album," to your collections when hearing some of the amateur cut and paste jobs on Jimi's vocals, leaving them off beat in some songs (Somewhere, Crash Landing, etc.). Experience Hendrix created a sub-label called Dagger Records many years ago, which they use to release albums of alternate versions of songs, demos, and songs that didn't have a place on mainstream studio albums. This album belongs on that label as a release for Jimi Hendrix completists only. This is a pretty low cash-grab on the part of Experience Hendrix. In fact, Eddie Kramer, head producer on the project was interviewed on video by Harmony Central after mixing this album down and said "this is the, HOPEFULLY [emphasis added by Kramer], the last of all the studio albums," which seems to imply he is being coerced in some capacity by Janie Hendrix to arrange inferior albums like this in order to fulfill contractual obligations to Sony. Pretty clear he didn't want to publicize a collection like this as a studio album, because it's not. They are duplicating songs that were on the "new studio" album they released just a couple of years ago (Valleys of Neptune), including that album's second single (Bleeding Heart)! And inferior versions of these songs at that. I was critical of their last release Valleys of Neptune, but still have it 3 stars out of 5 because it did contain some new music. However, this release is just shameful. This is a collection of nearly all alternate (and inferior) versions of songs that have already been released. There is so much duplication against their recent releases and songs that pale in contrast to their already released versions, that it's clear what's going on here: Experience Hendrix (Janie Hendrix) is doing everything they can to fulfill the 10 album deal they inked with Sony a few years back and it appears they are trying to slip by far inferior quality material and advertise it as "new studio recordings" to do so. That's right; they are now contractually obligated to release 10 albums of "new material." They have released Valleys of Neptune, Live In Cologne, the West Coast Seattle Boy box-set, the Winterland box-set, and now this release. That means they're only half way to fulfilling this 10 album deal, so this is probably only the beginning of a string of horrid releases like this. Additionally, it's important to note that there is still some good music contained on this album, but it's not a studio album as advertised, not even close. This is a disjointed collection of demos, alternate takes, jam sessions & rehearsals, already released songs, instrumentals, and tracks that weren't even Hendrix songs, but rather tracks he guest appeared on only playing guitar – All inferior to their already released counterparts. If released as an "alternate versions" collection or as a disc in a rarities box set, this would be a real gem and Hendrix completists like me would be happy to purchase an accurately billed release, aside from the few tracks that have horrible timing issues due to amateurish "cut & paste" jobs on Jimi's vocals. However, the advertising of this being a "new studio album," is going to do nothing but alienate many would be Jimi fans when they hear the inferior quality of these recordings and think that's how Jimi's "studio" material sounds. I'm being very generous in giving this album two stars despite of the inferior versions of already released songs included on this album, and the amateurish (and off beat) pasting of Jimi's vocals into many of the songs.
Customer Q&A
Questions & Answers
0

questions
Ask a question
If you would like to share feedback with us about pricing, delivery or other customer service issues, please contact customer service directly.
---
Thank you.
Questions will be checked against our question guidelines and posted within five to seven business days.
Consider these popular products