POWER A 3DS Explorer Starter Kit, Black (3DS)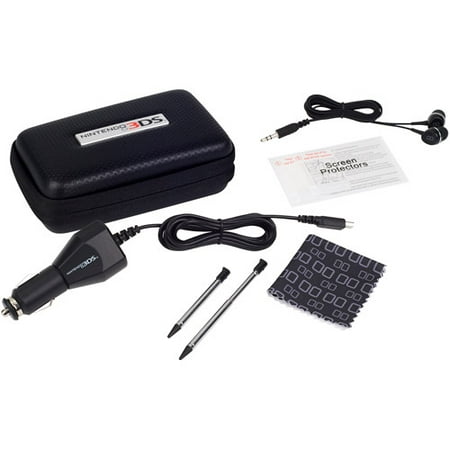 About this item
Get everything you need for using and protecting your Nintendo 3DS with the Nintendo Official Explorer Starter Kit for 3DS. This set comes with everything you could ever need including a protective case, screen protectors, styluses, and more. The protective case securely holds
Customers also considered

Customers also bought these products

About this item
Best seller ranking:
#6,012

in
#966

in
Customer Reviews | 21 reviews | 3 out of 5
Customer review by
TheReviewer12
I mainly bought this starter kit because I really liked the design of the case. The case protects my 3DS nicely, and allows me to carry 3 additional games and a few accessories. I've heard bad things about the screen protectors, but I got them to go on great and have had no problems with them! The headphones do not go very loud, so they would be better for smaller children. Overall it is a great starter kit! I only wish it came with a couple individual game cases, I had to buy the 'Clean & Protect' kit separate to get the cases I needed.
Customer review by
Shaylee413
The 3DS fits too tightly into the compartment it's supposed to sit in, so when you try to take it out, you have to pry it out, which would be a real pain for any kid. I understand it's supposed to be "compact" but the smaller size is at the expense of design. Also, this particular one didn't have the plastic screen protectors in it, which leads me to believe people had returned it previously, and Walmart didn't bother making sure all of the components were still in the box before reselling it. I'm returning it for a more accessible product that doesn't require nearly breaking the 3DS to get it out of a tight fit.
Customer Q&A
Questions & Answers
1

questions
Ask a question
If you would like to share feedback with us about pricing, delivery or other customer service issues, please contact customer service directly.
---
Thank you.
Questions will be checked against our question guidelines and posted within five to seven business days.