Oster Designed For Life Extra-Large Convection Countertop Oven, TSSTTVXLDG-002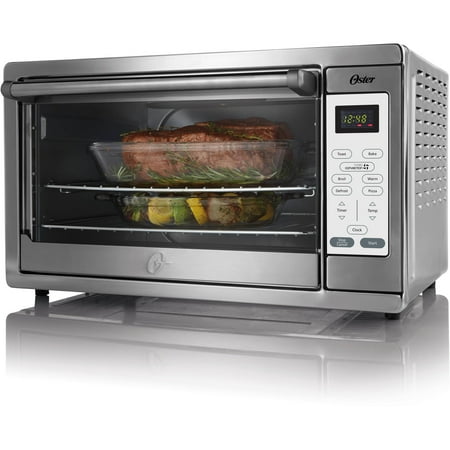 About this item
Accommodates a family sized pizza, a chicken or a roast
Convection technology for even, thorough cooking
Customers also considered
About this item
Best seller ranking:
#178

in
#44

in
#8

in
Customer Reviews | 1079 reviews | 4.4 out of 5
excellent for pizza cookies taco bowls or anything
Customer review by
tigelmo
we have already made red baron large pizza's in it and bought some of those taco bowl pans from walmart 4 for $10 and made taco salad and as you can see from the pictures this cooks great and we made chocolate cookies also.
I must have gotten the lemon !!!
Customer review by
MisterMo
Sorry about all of you who give your oven bad ratings ... I've had mine for about a month and it has performed EXACTLY as advertised !!! I've completely abandoned my range's oven. I'll even bake a dish on the upper rack, in a 9x13 pan and near the end of it's cook time, slide a leftover side onto the bottom rack to re-heat. I have measured the temperature of this oven (I keep the thermometer hanging in it now), and it is dead on. I put the oven on a counter-top next to the stove, pushed it as far back as it would go, till the "nipple" of the bulbous protrusion was against the wall. My unit doesn't get overly hot and I can even lay hands on the sides & top after baking at 350º for 30 minutes! Honestly, I haven't really used the broiler yet, except to put a little "browning" on cheese topped dishes), nor have I ventured into the foreign (to me) world of convection cooking. I bought this oven for the baking aspect, to discontinue the use of my stove's oven and I got EVERYTHING I WANTED & paid for. OBTW, I can't judge it's "Durability" at this point, that's the ONLY reason I didn't give it a "5" in "Durability".
Customers also viewed these products