14 Megapixel Digital Camera with 24x Wide Optical Zoom 3.0-inch LCD (Black)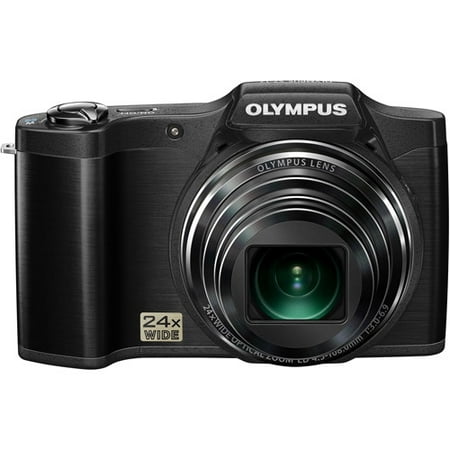 About this item
14 Megapixel Digital Camera with 24x Wide Optical Zoom 3.0-inch LCD (Black)
Check out these related products

About this item
Important Made in USA Origin Disclaimer: For certain items sold by Walmart on Walmart.com, the displayed country of origin information may not be accurate or consistent with manufacturer information. For updated, accurate country of origin data, it is recommended that you rely on product packaging or manufacturer information.
About this item
Important Made in USA Origin Disclaimer: For certain items sold by Walmart on Walmart.com, the displayed country of origin information may not be accurate or consistent with manufacturer information. For updated, accurate country of origin data, it is recommended that you rely on product packaging or manufacturer information.
14 Megapixel Digital Camera with 24x Wide Optical Zoom 3.0-inch LCD (Black)
Cannot return by mail
Due to federal restrictions, this item cannot be returned by mail. See our
returns policy
for more information.
Specifications
| | |
| --- | --- |
| Aspect Ratio: | 16:9 |
| Camera Lens Type: | Zoom Lens |
| Focal Length: | 25 - 600mm |
| Color: | Black |
| Exposure Modes: | Y |
| Optical Zoom: | 24x |
| Display Technology: | LCD |
| Digital Zoom: | 4x |
| Memory Card Type: | 1 x SD, 1 x SDHC, 1 x SDXC |
| Display Resolution: | 1280 x 720 ,  460000 Pixel |
| Color Category: | Black |
| Contained Battery Type: | Lithium Ion |
| Connector Type: | 1 x HDMI, 1 x RCA Audio L+R, 1 x USB 2.0 |
| Battery Life: | 300 Shot |
| Model: | V102081BU000 |
| Minimum Shutter Speed: | 1/1700 Second |
| Number of Megapixels: | 14 MP |
| Screen Size: | 3" |
| Brand: | Zalman Reiss and Associates, Inc. |
| Flash Type: | Pop-up Flash |
| Maximum Shutter Speed: | 4 Second |
| Focus Type: | Auto |
| Has Flash: | Y |
| Compatible Devices: | SD ,  SDXC ,  SDHC ,  Wireless LAN SD |
| manufacturer_part_number: | SZ-12 |
| Container Type: | Box |
| Accessories Included: | Microphone ,  Speaker |
| Contains Batteries: | Y |
| Features: | Image Stabilization ,  Face Detection ,  High Definition Video ,  3D Image Capture |
| Assembled Product Dimensions (L x W x H): | 1.55 x 4.19 x 2.70 Inches |
Customer Q&A
Questions & Answers
2

questions
Ask a question
If you would like to share feedback with us about pricing, delivery or other customer service issues, please contact customer service directly.
---
Thank you.
Questions will be checked against our question guidelines and posted within five to seven business days.
Customer Reviews | 3 reviews | 5 out of 5
Truly Superior Point and Shoot Digital Camera
Customer review by
Terebinthinaceum
I am an experienced 35mm film photographer (but that's extinct, last-century technology). I do extensive wildlife, nature, and science photography for digital presentations. Now, instead of carrying around two or three different cameras, one with wide-angle lens capablity, and another with super telephoto, I carry the SZ-12 around in a small digital camera pouch or bag. This camera takes both wide angles –- much needed — and super telephotos, equivalent to 600mm in an old 35mm camera. With the image-stabilized telephoto, photojournalist-type closeups can be taken of athletes, speakers, or distant events. Instead of a $500+ camera and big, heavy telephoto lens, I have this little wonder instantly available. If you are shooting for family use, for digital presentations, and wish to save a few hundred dollars, this is the camera. If you want to shoot for high-detail publications, buy the big-buck big cameras. But the Olympus quality is clear with the SZ-12. The controls are natural and easy to learn. The display is big and accurate. No, as with virtually all hand-held point and shoots, image focusing can take a second or two; not as fast as the expensive SLR big digital cameras. But once focused, the image quality is superb. Telephoto macros—close-ups—are wonderful through the long lens. Panoramic shoots can be quickly snapped together. I've not used the video capabilities, but they appear very adequate. No other camera, anywhere near its price, will offer the range of photographic capabilities this camera offers, particularly the telephoto features.
Best bang for the buck in it's class!
Customer review by
DoubtingThomasOriginal
I was looking for one camera that would take the place of my DSLR Sony Alpha 200 and my point and shoot mini Nikon Coolpix S550. My dslr has the lens it came with, a 24 X 70 mm and an after market cheap Cosina 28 - 300 mm lens. The point and shoot Nikon with only a 5X optical zoom was way short on magnification to do my out door wild life and bird photography, and the Sony A 200 with the 300 mm lens still lacked the magnification I wanted and was huge and bulky. After reading many reviews and doing a lot of research, I settled on this camera and drove to my local wal mart, where they had a sale on it for $149. My only question was would it rival the quality of my dslr and give me great telephoto pics? I knew it would far surpass the Nikon. The answer to my question is a resounding YES! To test the lens, I zoomed to 600 mm on my cat who was laying about 10 ft away in an unlighted hallway. All I could see in the picture was part of it's ear. Snapped the picture, and the results are simply breathtaking! Every hair in and on the cat's ear is sharp and clear and no blurring! All pictures taken so far are sharp, clear, with great color rendition. Even in low light zoomed to around 300 mm and shutter speed of 1/4 second, the pictures are sharp and clear, though colors are slightly skewed due to the fluorescent lighting in the room. Have not had this camera long, but I suspect there is a way to set it for fluorescent light to correct that. Or photo shop or picasa 3 works too! This thing is so packed with features, probably will be months before I can test all of them! I am simply blown away by what this $150 camera will do compared to my $800 Sony A 200 dslr and lenses! I was able to get twice as close with the 600 mm lens to the gold finches at my back yard feeders, and the color rendition was much better also as well as the sharpness! This camera is easily superior to any entry level dslr I have seen! Unless you are a professional photographer who can justify spending $4000 - $5000 on a dslr camera body and another $15K - $20K on lenses and then $300 to $500 on a quality back pack to carry it all, this camera will do as well as any one could possibly want! And it can easily be carried in a small camera bag on your belt! So save your self some cash. Before you run out and spend $800 - $1500 on an entry level and lenses, try this. I believe you will be pleasantly surprised. At worst, if you buy it at Wal-Mart and save all packaging materials and the receipt, you can return it and get something better for you. Is this the absolute best point and shoot super zoom you can get? A qualified yes! I believe you may be able to get better at price ranges of $300 - $550. But will they be twice as good to 4 times as good? I seriously doubt that! So yes, at this time I really believe this is the BEST $150 super zoom you can buy! To me it performs FAR in excess of what any one has a reasonable right to expect for $150, or even the $199 retail of this camera. I have only one small nagging doubt about this camera. In a year or 3, it will be totally obsolete and far better point and shoots will be available at the same or lower prices with better picture taking abilities and way more features. Till then, though I will be VERY happy with this and start saving my pennies for the time when much better is available.
Consider these popular products