Ol' Roy: Dog High Performance Food, 50 Lb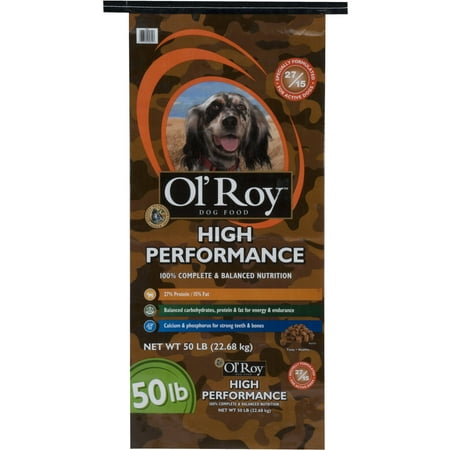 About this item
Important Made in USA Origin Disclaimer: For certain items sold by Walmart on Walmart.com, the displayed country of origin information may not be accurate or consistent with manufacturer information. For updated, accurate country of origin data, it is recommended that you rely on product packaging or manufacturer information.
About this item
Important Made in USA Origin Disclaimer: For certain items sold by Walmart on Walmart.com, the displayed country of origin information may not be accurate or consistent with manufacturer information. For updated, accurate country of origin data, it is recommended that you rely on product packaging or manufacturer information.
Made with high-quality ingredients, Ol' Roy High Performance Dog Food is specially formulated to provide 100% complete and balanced nutrition for all dog breeds. Available in this 50-lb bag, this high performance food for dogs will keep your favorite canine happy and active. A delicious choice for every day meal time, Ol' Roy High Performance Dog Food contains natural fiber sources to promote good digestion and health. Formulated for adult dogs, your best furry friend can enjoy this dog performance food for many years to come. Ol' Roy High Performance Dog Food is the tasty and healthy food option for all breeds. If you want to stock up on great everyday dog chow that promotes good digestion, consider buying this 50 lb bag of Ol' Roy High Performance Dog Food.

Ol' Roy High Performance Dog Food, 50 lb:
Natural fiber sources to promote good digestion
Promotes energy in all dog breeds
Tasty and healthy feed option
Safe for all dogs over the age of one year
Ingredients: 
Ingredients: Meat And Bone Meal, Ground Yellow Corn, Ground Wheat, Corn Gluten Meal, Animal Fat[Preserved With BHA And Citric Acid], Wheat Middlings, Soybean Meal, Natural Flavor, Salt, Potassium Chloride, Choline Chloride, Zinc Sulfate, Vitamin E Supplement, Ferrous Sulfate, Color Added[Red # 40, Yellow #5, Blue #2], L-Lysine, Calcium Carbonate, Zinc Oxide, Niacin, Copper Sulfate, Vitamin A Supplement, Biotin, Manganous Oxide, Calcium Pantothenate, Vitamin B-12 Supplement, Thiamine Mononitrate, Pyridoxine Hydrochloride, Menadione Sodium Bisulfite Complex[Source Of Vitamin K Activity], Riboflavin Supplement, Sodium Selenite, Calcium Iodate, Folic Acid, Vitamin D-3 Supplement, Cobalt Carbonate.
Directions: 
Instructions: Food consumption may vary during gestation, so feed the amount needed tomaintain the pregnant female's good body condition. Food intake maydouble or even quadruple during lactation. Ol'roy meaty chunks & gravyis formulated To meet the nutritional needs Of normally active dogs.Quality Ingredients are formulated in just the right amounts To provideeverything dogs are known To need for complete And balanced nutrition-nosupplements are necessary. Even the most finicky dog will love thenutritious crunchy nuggets. Feeding tip: changes in your pet's feedinghabits should be made gradually. When changing over To ol'roy highperformance, first substitute small amounts Of ol'roy high performancein place Of your dog's current food. Then over the next week To 10 days,increase the amounts Of ol'roy high performance, while decreasingamounts Of her or his other food, until your pet has 100% ol'roy highperformance. Dog size: toy-weight[3-12 lbs.]-daily amount*[1/2 To 1 1/4cups], small-weight[13 To 25 lbs.]-daily amount*[1 1/4 To 2 cups], medium-weight[26 To 50 lbs.]-daily amount*[2 To 3 1/4 cups], large-weight[51 to100 lbs.]-daily amount*[3 1/4 To 5 1/2 cups], extra large-weight[100+lbs.]-daily amount*[5 1/2 plus 1/2 cup for each 10lbs Of body weightover 100lbs.] *amounts are based on standard 8oz dry measuring cup.Remember To provide plenty Of fresh clean water in a clean container atall times. Regular veterinarian visits are recommended To ensure yourdog's good health.;  Ol'roy high performance may be served moist or dry. Either way, it willprovide your dog with complete, balanced nutrition. To serve moist,simply add one part warm water To four parts ol'roy high performance.Stir until pieces become moistened. Feed while warm. A dog should bemaintained in good body condition And not allowed To become overweight.The food intake required To maintain good body condition will varydepending on age, activity level, environment And other stress factors.Consequently, the food requirement for each dog will vary, And should beadjusted accordingly. Use the standard chart as a guide. Hardworkingdogs or dogs exposed To cold weather may require 2-3 times theseamounts. Puppies: puppies begin To eat solid food at 3-4 weeks Of age.Add warm water To soften the food And after 8 weeks, mix with water orfeed dry. Feed puppies all the moistened ol'roy high performance theywill consume at intervals throughout the day, or use the chart as aguide And feed approximately twice as much as suggested. If fedmoistened, do not serve more than what the puppies will consume in a thirty-minute period To ensure product freshness. If fed dry, food may be keptbefore the puppies at all times. After one year Of age, follow adultfeeding directions. Pregnancy And nursing; ol'roy high performanceprovides the extra nutrition needed by reproducing females in stages ofgestation And lactation.
Specifications
| | |
| --- | --- |
| Flavor: | UNFLAVORED |
| Count: | 1 |
| Size: | 50 lb |
| Form: | Shelf stable |
| Container Type: | Bag |
| Model: | 0007874205815 |
| Animal Type: | Dog |
| Brand: | Ol' Roy |
| Features: | Balanced carbohydrate blend ,  100% complete And balanced nutrition ,  High performance ,  Natural fiber |
| Assembled Product Dimensions (L x W x H): | 6.20 x 18.90 x 30.25 Inches |
Customer Reviews | 87 reviews | 4.5 out of 5
Best Food for a SUPER PRICE!!!
Customer review by
LonelyDoc
You really can't get a better properly balanced premium dog food for a better price! I have 3 GSD that are prominent members of my family. As with all living creatures, a BALANCED DIET IS EXTREMELY IMPORTANT for maintaining a healthy lifestyle! Dog food alone WILL NOT SUFFICE! It is IMPERATIVE to provide proper vegetation, minerals, proteins, carbohydrates, and fats within a daily diet. I use this dry dog food as a staple or basic element and then include Omega Fatty 3 oils, fish, meat, eggs, carrots, celery, rice, oats, etc. with each daily meal. The reason I choose this particular dry food is that it's #1 INGREDIENT IS MEAT AND BONE MEAL. Most other brands (even premium ones) have rice, corn, or enriched flour/wheat which is analogous to humans getting their nourishment from White Wonderbread - what a joke! The only problem I have found is that most Walmart stores that I frequent rarely carry it (probably not enough profit margin). The solution of course is to buy it online as it usually includes free shipping (depending on the minimum purchase required to meet the free shipping specifications). As long as Walmart keeps the ingredients inline with this specific format, I'll continue to be a lifelong customer, and will encourage others to follow my lead. If at anytime Walmart decides to "cost cut" the ingredients, I will find another brand.
EXCELLENT Food for ingedients & Price $$$$
Customer review by
DrVYoder
I have been buying really high end dog food for my pedigreed German Shepherds (GSD) (four of them) and it gets quite pricey but I always thought it was necessary as they are not just dogs but part of my inner family! Upon a recent visit with my Vet over their yearly checkups we talked about the type of dog food that would be best for them. My Vet stated that Ol'Roy was an extremely good dog food for my GSD's and he informed me to look at the list of ingedients and what was listed first was always the main ingredient. My Vet also informed me that it was important to change up the dog food at least every 6 months along with adding necessary supplements (yogurt, rice, chicken, lamb, eggs - everything cooked not raw) along with the dog food. Ol'Roy's list of ingredients was BETTER than the top dog food brands I had been buying (Iams, etc.). Not only that but the price of Ol'Roy's was 70% LESS!!!! This meant I could supplement more of the other various foods (mentioned earlier) with this substantial savings! Truly the best way to go for my family!!!!