Neu Home Acrylic Collection 3-Bar Towel Rack with Bottom Shelf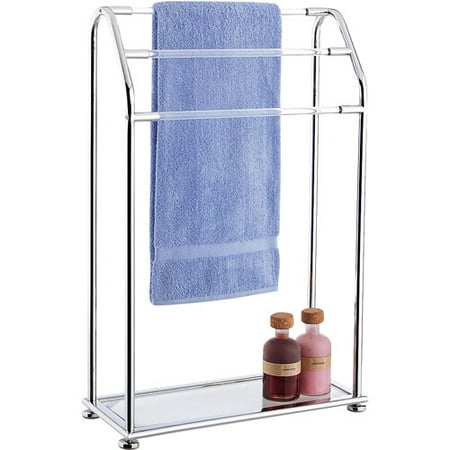 About this item
3 acrylic bars and a glass shelf
23.13"L x 9.88"W x 34.25"H
Customers also considered
About this item
Best seller ranking:
#10,417

in
#684

in
#298

in
Customer Reviews | 37 reviews | 4.4 out of 5
Customer review by
batmanx
It's a little pricey but its looks awesome. It's not as tall as I expected, our towels come very close to the bottom on the back two rods which doesn't leave much room to put stuff on the glass shelf. However when you're putting on or taking off your towel there's not many reasons to bend all the way down there, so it's not that big of a deal.
Great addition to guest room functionality
Customer review by
SecondMate
Our guest room shares our main bathroom. So when we have guests, its great for them to have a place to hang damp towels. This good looking towel rack takes up minimal space and has hanging room for the longest bath towels. Also shopped at BB&BY and they had nothing comparable.
Customer Q&A
Questions & Answers
0

questions
Ask a question
If you would like to share feedback with us about pricing, delivery or other customer service issues, please contact customer service directly.
---
Thank you.
Questions will be checked against our question guidelines and posted within five to seven business days.
Customers also viewed these products