Murray 21" Gas Push Mower with Side Discharge, Mulching, Rear Bag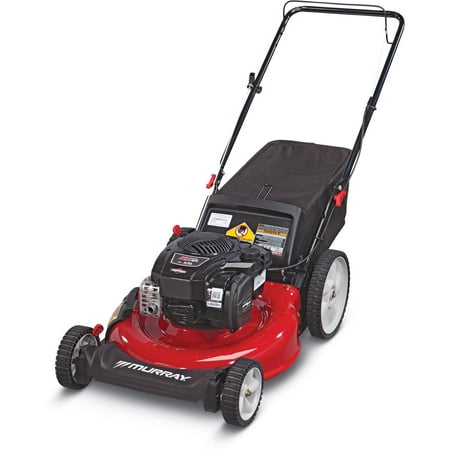 About this item
Powered by a Briggs & Stratton 140cc OHV 550e Series Engine
Cutting Deck: Mulch, rear bag, side discharge
7" Front and 8" rear wheels
Customers also considered

About this item
Best seller ranking:
#11

in
#3

in
#3

in
Customer Reviews | 339 reviews | 4.2 out of 5
Great 1st time buyer lawn mower
Customer review by
musicmanxoxo2004
I just purchased this mower. I must admit I'm satisfied. I've only used it once; however, so far I have no complaints. The one drawback I might include is that it only has one speed, full throttle. I'm sure its governed not to be full blast. It came with a pint of oil or so I dont remember but it was the required amount for use. I added the oil, 1 gallon of gas, and it cranked right up on first pull; i pulled rather easily just to see how tight the motor was and it fired up. I dont use the side or bag, I just let it mulch and it does great. I mowed my whole lawn on the one gallon. Took me about an hour and never needed to refill gas. It has 1 front height adjustment and 1 rear height adjustment, meaning one adjustment lever on one side adjusts both front wheels, works good. I looked at others but for the price and torque and looks, this mower was the one for me. when you assemble, remember to pull the push handle out to the correct position. It comes in transport mode pushed in and it locks the blade in place.
Murray 21" Gas Push Mower
Customer review by
FDavis
I recently purchased this item on walmart.com. The site gave specs, availability, and allowed me to ship to store. The entire process was seamless and convenient. I was notified, via email when my order was ready for pickup. When I arrived at the store, an associate assisted me with my purchase, and my package was brought to my car. The lawnmower was already assembled, but there were several items that had to be screwed or attached, properly. The instructions were helpful, but an old push mower, standing by in the garage, simplified the process and made me feel more confident about the assembly. After adding some oil, that was included with the mower, and gas that I purchased, the lawnmower started on my first attempt. I am pleased with the performance of the mower, as well as its mulching capability. A great value for the price. I highly recommend this item.