Mountain Security Keyed Entry Door Knob Tulip & Deadbolt Combo Pack, Polished Brass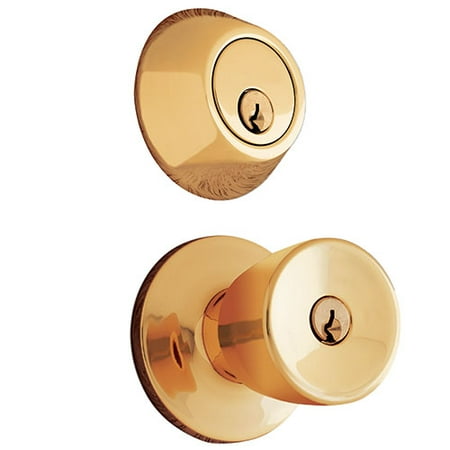 About this item
This set features one keyed entry door lock and single-cylinder padlock.
Customers also considered

Check out these related products

About this item
Best seller ranking:
#3,345

in
#305

in
#31

in
Customer Reviews | 15 reviews | 3.7 out of 5
Customer review by
LocksmithJoe
As a certified locksmith I'm constantly looking for a good lock to practice on, Or to recommend to people, So Im constantly looking for a new challenge. I saw this at Walmart a few days ago and when I got it out of the box I was far from impressed. I put it on my practice stand (part of an old door with wood under it and began to pick. Less than a second later it's open. So I try bumping it. First try. Open. So I try rapping it (hit it on the bottom with a hammer) Open. Then I pulled out a small screwdriver, stuck it in and pushed up. Turned just like the key was in it. In short, a criminal isn't gonna pick your lock. So don't worry about that. However, a criminal is gonna use a small screwdriver. So don't make it that easy. Buy a better lock. Please.
Customer review by
Igetsmyshopon
I have no complaints with the lock, I am sure there are better locks available, for example bump proof technology. I needed a lock fast and inexpensive and this fit the bill. Thumbs up in my book . Thanks Walmart.
Customer Q&A
Questions & Answers
16

questions
Customers also viewed these products