Monster High Frights Camera Action Operetta Doll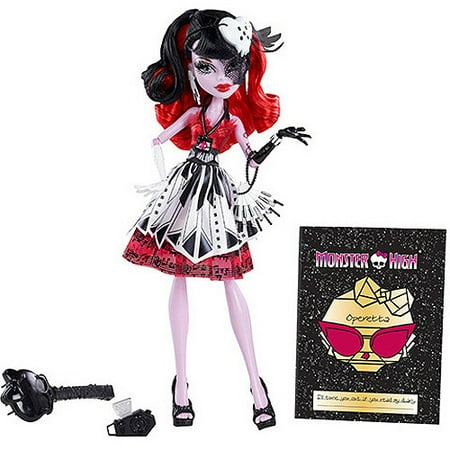 About this item
Age Range: 6 years and up
To-die-for dress with art deco-inspired print
Doll stands 12.75" tall
About this item
Best seller ranking:
#5,416

in
#707

in
#252

in
Customer Q&A
Questions & Answers
0

questions
Ask a question
If you would like to share feedback with us about pricing, delivery or other customer service issues, please contact customer service directly.
---
Thank you.
Questions will be checked against our question guidelines and posted within five to seven business days.
Customer Reviews | 17 reviews | 4.8 out of 5
Operetta doll with bad hair day and great dress
Customer review by
NanaZaza
My granddaughter, who collects MH dolls and was interested in having all versions of Operetta, was very disappointed in this version's hair. "Bald" spot back of head that was difficult to cover, red and black hair do not blend as they do so nicely on other versions this doll. The dress, however, is fantastic, and is now one of her favorite fashions for her 50+ dolls.