Molly's Suds Laundry Powder 120 Loads - Unscented
Price when purchased online
Free shipping,

arrives by Tue, Dec 6

to
Want it faster?
to see options
More seller options (1)
Starting from $46.00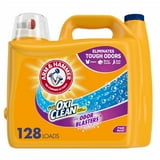 Sponsored
current price $13.98
6.9 ¢/fl oz
Arm & Hammer Plus OxiClean Odor Blasters Fresh Burst, 128 Loads Liquid Laundry Detergent, 201.6 Fl oz
4.3 out of 5 Stars. 224 reviews
Pickup
Delivery
3+ day shipping
About this item
Product details
Experiencing skin irritations, allergies, or sensitivities and believe your laundry products are the source of the annoying issues? Molly's Suds® Laundry Powder 120 Loads is perfect for you, with zero harsh chemicals, carcinogens, synthetic fragrance or dyes! Safe for people and the planet. Did you know that dangerous chemicals in conventional detergents have been proven to transfer from fabric to skin and can be found in cord blood and breast milk? Molly's Suds® Laundry Powder 120 Loads is formulated with just four earth and plant derived ingredients that are truly safe for people and the planet - with strict ingredient integrity. Works great in all water temperatures and hard water. Safe for any and all laundry. Septic and High Efficiency (HE) washer-safe.
Formulated especially for sensitivities and allergies
error:
We aim to show you accurate product information.
Manufacturers, suppliers and others provide what you see here, and we have not verified it.  
Specifications
Assembled Product Weight
5 lb
Directions
Instructions
Standard and old washers that won't die add 1 scoop (1 TBSP) as the machine fills with water and then add the laundry. HE machines add powder directly to your washer tub then add laundry. Heavily soiled or XL loads? We recommend using an extra 1/2 scoop + warm water for best results & choose the longest wash cycle. Dry using Wool Dryer Balls.

Add our Whitener to stained laundry & whites for an added BOOST! Hard water? Add 1/3 cup distilled white vinegar to the wash or fabric softener cup and prepare to be amazed! Stains? PRETREAT stains with diluted natural dish soap or our All Sport in a sprayer. Launder. Repeat if still visible. Don't dry stained laundry, or the stain will be set forever.

You can add your own essential oil for scent.
Ingredients
Ingredients
Proprietary Blend of Sodium Carbonate (Sourced from the Green River Basin in Wyoming), Sodium Bicarbonate, Magnesium Sulfate (Heptahydrate), Maris Sal (Unrefined Sea Salt)
Customer reviews & ratings
Best Natural Laundry Powder

This is the best natural laundry powder I have used. Cleans thoroughly and leaves clothes fresh and soft. Great value for the price. Used to get on HSN but no longer carried there, so I was glad to see it on Walmart's website. 2 day delivery to store for pickup.

We tried other natural detergents in the past but they really weren't deemed completely safe. I love this stuff, it makes your clothes smell so clean.

Works perfect for my whole family adults to babies! I love that it doesn't have all those nasty chemicals and perfumes. I wish more people would use this!

Have used this for years and it does a good job without adding chemicals to the household.

This is the product that people recommendate and have very good review online. However, it is the worst product ever. After the wash, my baby clothes smell really bad. It has this weird fishy smell.
Customers say these smell great
Based on customer reviews
Notice unusual marketplace activity?
Report