Miracle-Gro Garden Grass & Weed Preventer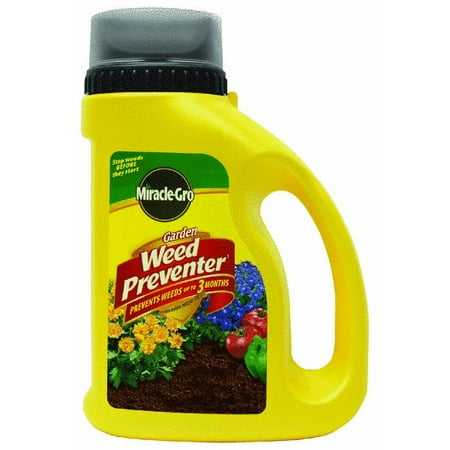 About this item
Miracle-Gro Garden Grass & Weed Preventer
Customer Reviews | 20 reviews | 3.6 out of 5
Customer review by
BERYLos
I used Miracle-Gro® Garden Weed Preventer in the Northern part of Ohio a few years back. Had some nasty weeds that were hard to pull let alone to get rid of. I used over the recommended amount and got rid of those awful weeds but also killed my plants. Now when I use it i'm more careful. I follow the directions and my plants have a weedless garden to grow in. It's better to spread the Garden Weed Preventer before planting in the spring before the weeds get a strong foot hold in the soil. #sweepstakes entry
Customer review by
MartySel
I thought it was just me, but after reading the other reviews, I realize that it's not me, it's the product. I have used this on several occasions with the same result. It doesn't control the weeds. They recommend that you use it before the weeds germinate but how is this possible? You would have to blanket the entire bed with the product and this would cost a fortune. I can't understand why it doesn't kill weeds when you apply it directly to them. I think this product needs some more research.
Customer Q&A
Questions & Answers
1

questions
Ask a question
If you would like to share feedback with us about pricing, delivery or other customer service issues, please contact customer service directly.
---
Thank you.
Questions will be checked against our question guidelines and posted within five to seven business days.
Consider these popular products