Microfiber Bed in the Bag, Zoolicious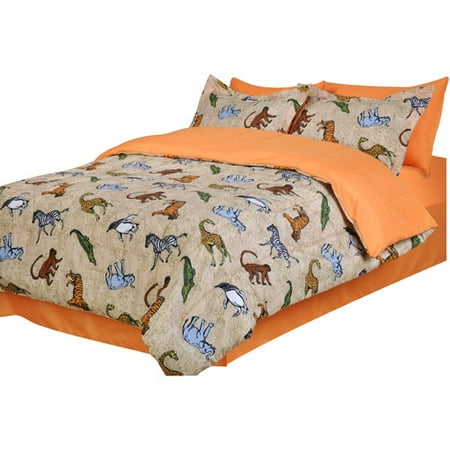 About this item
Set includes comforter, sheet set and more
Wild animals on a natural ground
Care: machine washable
Customers also considered
Check out these related products

Customer Reviews | 48 reviews | 4.1 out of 5
Customer review by
Crimsoncat
I'm going into graduate school and found myself with $500 to buy furniture for my new 600 sqft apartment. I bought this set for two reasons: cheap and cute. An entire bed in a bag for $25 (full) was absolutely astonishing to me. I read the reviews and they seemed to be about right. I kept the receipt in case this deal was too good to be true. Here's a breakdown of how I found the bed: Color: True to picture, if slightly more gold than orange. About the color of the rating stars on my machine. Bright and vivid following one gentle cycle cold wash. No color rubbed off on me after I slept on this unwashed. Feel: I'm kind of up in the air about this. The whole set, sheets and all is polyester. Another reviewer said she felt the sheets were "soft". I am inclined to disagree with her here. On other bed-sets I have heard people describe sheets as "sandpaper" and always assumed they were just whiny. These sheets were not sandpaper, but certainly the term "mildly annoying" applies. I washed them with fabric softener, but to no avail. To give you and idea, I would say they are more harsh than my 270 count cotton sheets. They have begun to pill as well. However, for $25 for the whole set, anyone who thinks they will be getting anything better is expecting too much. The sheets are pretty thin, as other reviews have reported. All that said, the comforter and pillow cases (which are made from the same material) don't feel THAT scratchy at all. In fact, I would be inclined to call them "normal" for the teen/kid segment (around 250-270 count feel). For the life of me, I can't figure out why one feels better when they should be the same. Construction: Speaker as a avid costume maker and doll clothing tailor, the seams are acceptable, but I would keep an eye on them. I did find one defect in my blanket seams, but it had been triple stitched over to prevent it from causing a problem. I would say they did a great job with the seams for what you paid. However, gentle cycle is a must. Also, I would keep check them after washes and stitch over problem areas right away. Warmth: Cold at first, after 15 min they trapped the heat in and worked too well for my summer night. They'd be fine in winter so long as you aren't prone to being cold. Fit: I ordered full. It fit my mattress and was just a tad over-sized. I'm happy. Value: Unbeaten. It doesn't get any cheaper and remain as pretty. Cuteness: Very much, but I was always a bit of a tomboy. Would I keep it?: Yes, and I won't give it back. Would I recommend it to you?: Yes, but with two stipulations. 1: Buy another (cotton 270 or better) set of sheets and keep these as a back-up. 2: Don't expect excellence or longevity past a few years, just accept how adorable they look and what a nice price they are.
Customer Q&A
Questions & Answers
1

questions
Ask a question
If you would like to share feedback with us about pricing, delivery or other customer service issues, please contact customer service directly.
---
Thank you.
Questions will be checked against our question guidelines and posted within five to seven business days.
Customers also viewed these products