Customers also viewed these products

Mainstays Pop-Open Laundry Basket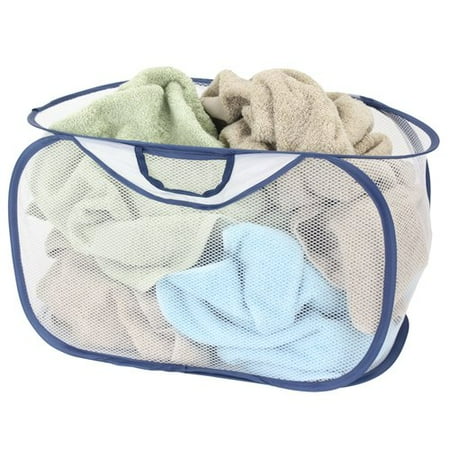 About this item
Folds flat for convenient storage
White polyester mesh
Measures: 21"L x 13"W x 15.5"H
Check out these related products

Customer Reviews | 24 reviews | 4.5 out of 5
Loved it, would have loved 2 pack better
Customer review by
Sekmhet
These are the third and fourth basket I have bought of these. I really do like them. The handle is very sturdy and its not painful to carry a heavier load, they collapse perfectly flat and twist into a smaller form, too. But no matter which Walmart I go to these are never in a two pack. They are always single. This time when I bought them they were another color, too. These had a black mesh, but I am okay with that. Now if they would just stay in stock. It took three trips to find them! These have UPC# 0-83985-98901-0
Great to keep laundry going in busy family
Customer review by
NMurphy
Our family loves these. In fact, our old ones were pinned together with bobby pins because I refused to throw them out. It took some time to find them again. For family of 5, we use 4 (parents share one) in laundry room at all times so that we can quickly fold/sort dry laundry.the kids Should put up their clean clothes away when their basket is full (or they have to keep coming to laundry room to dress). The baskets are light, easy to pull upstairs when full, foldable, and they fit in a small laundry room (1 on a utility shelf, 2 lined up on floor, 1 on the dryer). Big plastic bins and baskets would not work for us.
Customer Q&A
Questions & Answers
2

questions
Ask a question
If you would like to share feedback with us about pricing, delivery or other customer service issues, please contact customer service directly.
---
Thank you.
Questions will be checked against our question guidelines and posted within five to seven business days.
Consider these popular products