Kryptonite U-Lock Mini Lock with Cable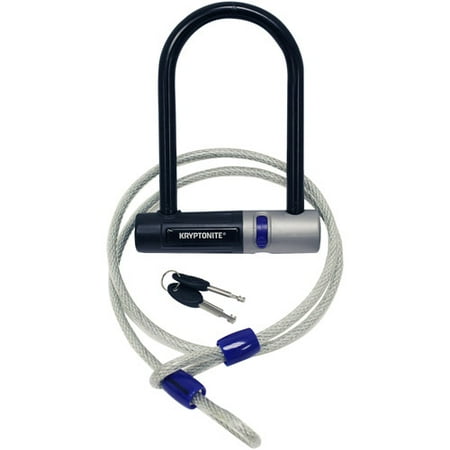 About this item
Size: 3.25" x 6"
12mm hardened steel shackle
3' x 8mm coiled accessory cable
Customers also viewed these products

Check out these related products

Customer Q&A
Questions & Answers
1

questions
Ask a question
If you would like to share feedback with us about pricing, delivery or other customer service issues, please contact customer service directly.
---
Thank you.
Questions will be checked against our question guidelines and posted within five to seven business days.
Customer Reviews | 3 reviews | 4.7 out of 5
Customer review by
RedCyclingButterfly
I bought this lock last month and so far I love it!! At first I thought it was too small and that it wouldn't fit around my frame and the bike pole but I was wrong! It lock around my bike frame and the bike pole with no problems. I have even locked my bike from my back wheel/frame and it locked perfectly. The cable came in handy when I was told from a friend that you should always lock up your saddle if it has a quick release on it. Best lock ever!!! I trust it 100% when its time to lock up my bike.
Customer review by
allbie
Having safe keep of a posession is important. Why can't we make a simple home security system that fits the home security need, getting tired of suff that s manufactured and does not do the specific job of alert and identification of the enterers without a too high fee
Consider these popular products