KidKraft Metropolis Train Table + 100pc Train Set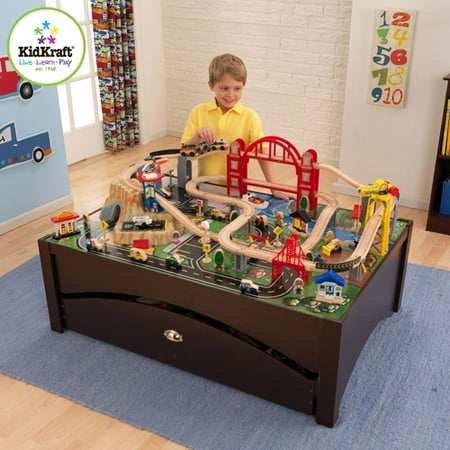 About this item
Age Range: 3 years and up
100-piece train set
Includes train table and set
Customers also considered
About this item
Best seller ranking:
#1,407

in
#44

in
#15

in
Customer Reviews | 100 reviews | 4.1 out of 5
Customer review by
StacieEtta
Got this for Christmas 2013, Yeah!!! Waiting on my 2.5 year old to wake up but it took 4hrs for my hubby to assemble here were his gripes. 1 directions are laughable, 2 may have to adjust some of the tracks, and 3 there are like 100 pieces you really have no idea where things are to be placed. But he figured it out, and noted if I did this to him next Christmas, we would be in counseling. So since he didn't threaten to leave me and the kids this table set is awesome for the price and it looks great under the tree. Merry Christmas!
Customer review by
Nannamona
One side of the table arrived broken in the middle.. Few pieces of the accessories were missing. I did not call yet to request a replacement. The box arrived in the states and it had all tapes around the edges which means that the box was previously opened or for some reason ripped. The table was a gift for my grand kids in Canada. I hope I get a replacement without problems. Otherwise the table looks nice and my twin three years old grand kids liked it.
Customers also viewed these products