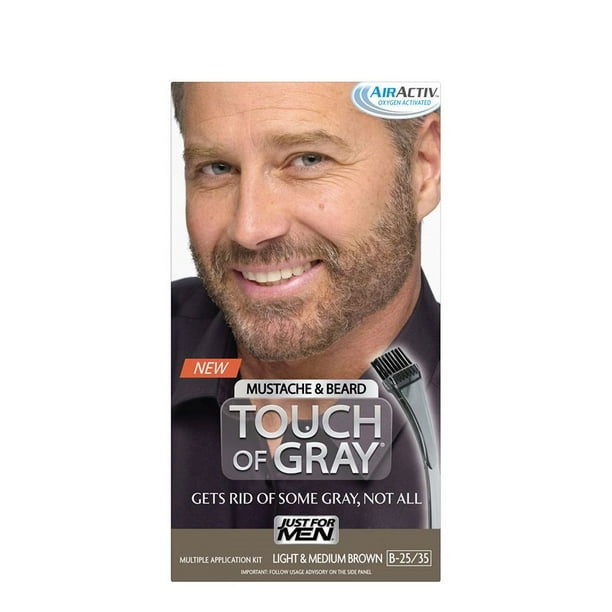 Just For Men
Just For Men Touch Of Gray Mustache & Beard, Easy Brush-In Facial Hair Color Gel, Light and Medium Brown, Shade B-25/35
Actual Color. Select Option. Current selection is: Shade B-25/35 Light & Medium Brown
Free

2-day delivery
on $35+ orders
Arrives by Sat, Oct 3
About This Item
We aim to show you accurate product information.
Manufacturers, suppliers and others provide what you see here, and we have not verified it.
Designed specifically for coarser facial hair, Just For Men Touch Of Gray Mustache and Beard gets rid of some gray, but not all. It works gradually. The innovative formula reduces gray without getting rid of it completely. The applicator brush is specifically designed for facial hair and lets you control the application. With each application, Touch of Gray Mustache and Beard reduces the amount of gray. The change is subtle. And even with repeated applications it won't get rid of all the gray. It's gentle and long lasting -- there's no ammonia or peroxide. And yet the natural look lasts until you gray grows back. We believe in freedom of grooming. Men should feel free to look however they wish to look-with or without gray hair. When men want to enhance, reduce or get rid of their gray, they come to Combe. Our Just For Men brand is #1 in the world, because men trust us to create products that deliver superior, natural-looking results. No other brand is 100% dedicated to giving men easy options to groom away their gray so they can look the way they want to look every day.
Just For Men Touch of Gray Mustache and Beard Color, Light and Medium Brown
Takes away some gray hair for a subtle salt & pepper look
Comes with an easy brush-in applicator
Warning:
Important: Follow usage advisory on the side panel. Haircolor can cause allergic reactions. Follow the usage advisory. Usage Advisory: Haircolor products can cause allergic reactions which in rare cases can be severe. Temporary black henna tattoos may increase your risk of allergy. Do not use this or any other haircoloring product if you have experienced a reaction to a temporary black henna tattoo in the past. Before using this product, you must perform a preliminary 48-hour skin allergy patch (alert) test according to accompanying directions. Do Not Use this Product if: You have already experienced any reaction to this or any other haircolor product. You have an irritated, sensitive or damaged scalp. Remember to perform the 48-hour skin allergy patch (alert) test before each use even if you have previously used this or other haircoloring products. For this reason, buy this product two days before you intend to use it. In rare cases, use of hair dye has been associated with skin depigmentation (skin lightening or loss of skin color), which may be temporary or permanent. If you notice any skin depigmentation or other allergic reaction such as discomfort or severe itching, discontinue use immediately. Do not use this product at all if you have skin depigmentation problems such as white patches on your skin (a condition called vitiligo) or if you have a family history of skin depigmentation problems, as an allergic reaction may cause temporary or permanent loss of skin pigment. Caution: This product contains ingredients which may cause skin irritation on certain individuals and a preliminary 48-hour skin allergy patch (alert) test according to accompanying directions should be done first. This product must not be used for dyeing the eyelashes or eyebrows - to do so may cause blindness. Keep product out of reach of children. Not for use on children.
Ingredients:
Ingredients: Water, Cetearyl Alcohol, Steareth-21, Decyl Glucoside, Hydroxyethyl Cellulose, Ethanolamine, 1,2,4-Trihydroxybenzene, Ceteareth-20, Fragrance, P-Phenylenediamine, Dicetyl Phosphate, Ceteth-20 Phosphate, N,N-Bis(2-Hydroxyethyl)-p-Phenylenediamine Sulfate, Manganese Sulfate, m-Aminophenol, Erythorbic Acid, p-Aminophenol, Sodium Sulfite, Toluene-2,5-Diamine, Etidronic Acid.
Directions:
Instructions: Read and follow directions on enclosed leaflet.
Fabric Care Instructions: NA
Explore this item
Features
Which Hair
Gray Coverage
Stops at Target Color
Formula
Application
Timing
---
---
---