Honeywell Plug-in Wireless Door Chime and Push Button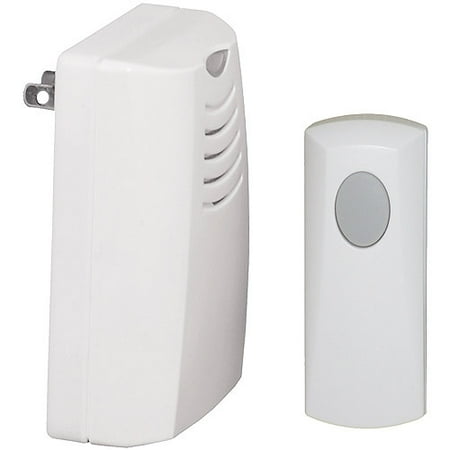 About this item
100' operating range
Plug-in door chime and push button
3 chime tunes
Customers also considered
About this item
Best seller ranking:
#308

in
#5

in
#3

in
Customer Reviews | 178 reviews | 4.2 out of 5
Excellent Option!!! (Affordable & Easy to Install)
Customer review by
An anonymous customer
I'm in love with this doorbell. It's was very reasonably priced (about $14), and totally worth it. I live in a townhome style apartment alone, and often miss packages and the maintenance man because the door is so hard to hear when I'm upstairs. It was very simple to install. Opened the package, plugged in the door chime upstairs and put the button on the door. The sticky tape supplied worked better when I put the button on the door vs. the wall. The plug in option is best I think... No batteries to buy.
Not just another DING DONG
Customer review by
OU81Ni812
The price on this unit was one of the cheapest on the site but this unit is one of the best. You can't beat the fact that the base is plugged into an outlet and needs no batteries. The button comes with a 12 volt battery. Do yourself a favor and screw the button/mount to the outside wall and forget about the double sided tape. One other thing. The distance between base unit and button is kind of limited depending if there are obstructions in the way of the radio wave. You'd be smart to plug the base unit into a wall socket that is close to your front door. The chime is pretty loud and cannot be adjusted. Again, a great unit. It comes with 3 sounds and 16 channels. You can buy two of these units and use one for the front door and one for the back using different channels for each with different sounds so you'll know what door you guest is waiting.
Customers also viewed these products