Proper Romance Western: Healing Hearts (Paperback)
Pickup

not available

at Sterling Supercenter
Packaging note:
Ships in the manufacturer's original packaging, which may reveal the contents.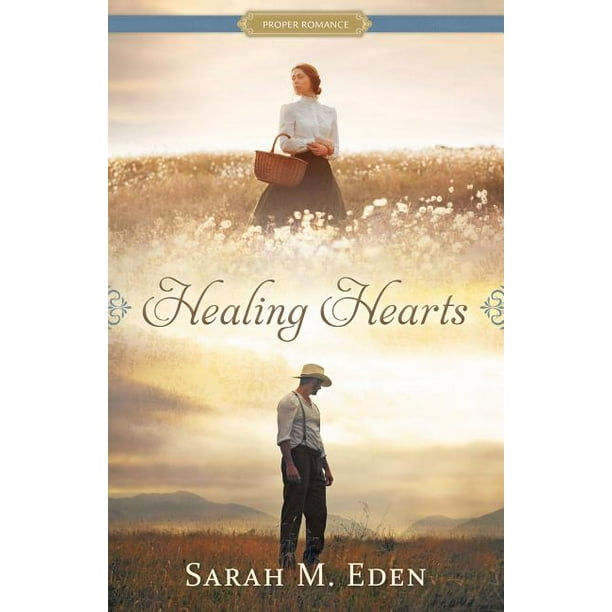 About this item
Product details
"Miriam Bricks arrives in Savage Wells thinking she is accepting a job as a nurse. Dr. Gideon MacNamara thinks Miriam is coming to be his wife. Despite the misunderstanding, they learn to work together as a team to help the sick and injured. As their relationship grows into something deeper, Miriam's secrets may take away their dreams"--Provided by publisher. Wyoming Territory, 1876 As the only doctor in the frontier town of Savage Wells, Gideon MacNamara knows his prospects for a bride are limited. The womenfolk in town are either too young, too old, or already spoken for. So, being a practical man, he decides to take advantage of the matchmaking service of the day--mail-order brides--and sends away for a woman with nursing experience. When Miriam steps off the stagecoach in Savage Wells, she sees a bright future in front of her. But when the town--and Gideon--meets her, ready for a wedding, her excitement quickly turns to horror. Somehow Dr. MacNamara's message had gotten turned around. He didn't want a nurse, he wanted a wife. When she refuses to marry him, she finds herself stranded in Savage Wells with some very unhappy townspeople. But Gideon is not like the other men Miriam has met. Embarrassed by the misunderstanding, he offers her a job, and the two begin an awkward--and often humorous--dance of getting to know each other as they work to care for the people of their town. Romance blossoms between the two, but when a former medical associate of Miriam's arrives in town, Gideon and the other townsfolk must rally around Miriam to protect her from a dangerous fate. Gideon and Miriam must decide if they are willing to risk their hearts for each other even as buried secrets are brought to light.

• Author: Sarah M Eden • ISBN:9781629724584 • Format:Paperback • Publication Date:2019-02-05
error:
We aim to show you accurate product information.
Manufacturers, suppliers and others provide what you see here, and we have not verified it.  
Specifications
Series Title
Proper Romance Western
Original Languages
English
Publication Date
February, 2019
Assembled Product Dimensions (L x W x H)
8.60 x 5.50 x 1.00 Inches
Customer reviews & ratings
From the beginning to ...

From the beginning to the end this book pulled me in, and had me cringing at the injustice that was perpetrated at the time. Once you find out why Miriam is in Savage Wells and why she won't marry Gideon you champion her cause. Will she win this town over? Will the evil that is brought on her by the law at that time win? I know I was starting to get very angry at the system, but so many souls were lost here, and this went on way into the late 1900's. There are some really warmhearted events here, and others will rip your heart out, and you will worry about this town losing its children. Wow! As you can see there is a lot going on here, and innocent telegram has the ability to destroy lives. A quick page-tuner, that will make you think! I re...

Miriam steps off the s...

Miriam steps off the stage, ready to begin her new job as a nurse. gideon meets her, ready for a wedding. With embarrassment on all sides, these two work together to help the town. But trouble is following Miriam. Can she trust Gideon with her secrets? This was my first introduction to the town of Savage Wells, and I am eagerly looking forward to getting my hands on the first book. The entire town is filled with delightful characters I am dying to know better. Gideon is an absolute sweetheart of a doctor. He works himself to the bone for the town. He also has a family who is not exactly supportive of his career choice. As he earns Miriam's trust, he is gentle and understanding. From the start, we know Miriam has a secret. Well, several, and...

A doctor looking for a...

A doctor looking for a wife, a nurse looking for a job. Sounds simple right, this story is anything but. Gideon MacNamara, knowing that it will be hard to get a wife living out west and he hopes that a matchmaking organisation can help him obtain what he is looking for. After being rejected a few times he hopes that this time works. Miriam Bricks gets off the stagecoach and is greeted by a bevy of townsfolk. She is whisked away to the schoolhouse where the town is there and a preacher upfront along with Dr.MacNamara. This seems strange to Miriam as she is there for a job. All of a sudden she realizes that it is a wedding and it appears that she is the bride. She.Runs. Because she ran she is greeted with unhappy towns people. She does the be...