Great Value Twist Tie Bags, Gallon Size, 100 count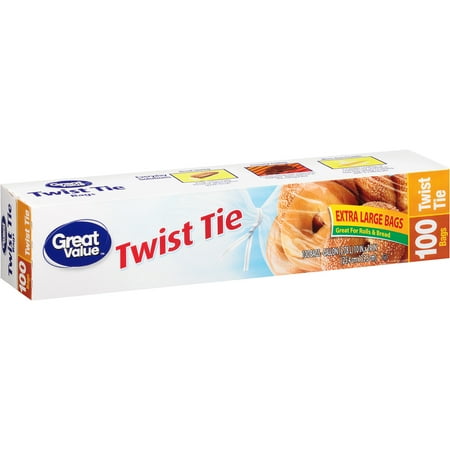 About this item
100 bags and ties
Multi-purpose storage
Convenient for traveling
About this item
Best seller ranking:
#943

in
#271

in
#32

in
Customer Reviews | 74 reviews | 4.8 out of 5
Thanks for bringing them back...
Customer review by
Patticake11
Last spring I needed to buy a box of these to restock the pantry. I couldn't find them anywhere. In fact, I couldn't find ANY brand of gallon twist tie bag ANYWHERE. Well, at least not affordable ones. Savvy people who had some in their possession were charging high prices on another retail site. I periodically searched the web trying to find a replacement. Last week I was in my local WM store and saw one case setting on the bottom shelf in an area that was being re-set. Half of the open case was already gone, and I grabbed four boxes. I found them online and have added them to my wish list to add to orders in the future. I hate zip style bags for a number of reasons, including uncertainty in sealing, bulky zip end interferes with vacuum sealing in larger vacuum bags, and expense. These gallon bags are perfect for freezing nine homemade dinner rolls, four cups of shredded cheese, and portions of meat that will be frozen and vacuum sealed. THANK YOU for bringing them back.
Customer review by
Shirlianne
This must be a popular item because I can never find it on the shelf anymore and have to order it to pick up later. These are perfect to put large pieces of vegetables in for the fridge, to keep a group of items together, to send some left overs home with guests and much more. I like these better than the zip-top bags because I use them for more than foods. When traveling they are a great to have on hand for singular items you don't want to get lost in the luggage. When I clean the master bath, I have some make-up and toiletries on the counter that gather who-knows- what from sprays. I cut the side and end of a bag making it a large plastic cover for those items. I do the same for earrings that I have by color on covered hangars for easy sight and reach. Couldn't get along without these wonderful bags, so handy for everything.