Keepsake Girl's Classic Oval Class Ring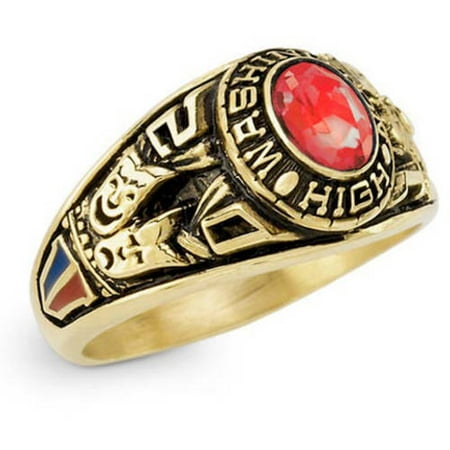 About this item
Personalize with graduation year, school mascot and more
Available in Valadium, Silver Plus, yellow or white gold
Customers also considered


About this item
Best seller ranking:
#159

in
#59

in
#50

in
Customer Reviews | 14 reviews | 4.3 out of 5
Customer review by
Phire
I have wanted a class ring for a year and a half now. The ring that I wanted the most was on Jostens.com. It was different from most of the other rings, but it costed about $250+. I started saving up, but never got enough. I recieved a few gift cards for Christmas '09 and some money, so I decided to look for a similar ring, but for less money. I found one for $175, but still didn't have enough money, because of S&H + tax. We finally found this one on walmart.com. I was hesitant, because it wasn't the same style I had originally wanted, but I purchased it anyway, because I needed to save some money. It came last month in the mail, and it is so pretty. It's worth more than the $78 paid for it! I got the class ring and still had $100 left from Christmas to buy other things.
Have no regrets for purchasing this ring
Customer review by
pamspam
I bought our first Keystone ring for my oldest daughter 5 yrs ago in her Junior year at HS, we bought the Platinum, shes in band, and had her initials engraved. I was very surprised how it looks like in person; the photos are good on the website, but handling it and wearing it , its very nice. she wears it daily even now in college and it still looks excellent, no paint chips from the school colors and the metal has no marks ,( ie I was worried it would get like those lacquered necklaces where the finish peels off and makes your neck green!) its smooth and polished just like day one. I bought 2nd daughter's ring from Walmart -same model - etc, and just as happy with this as the first ring. Highly highly recommend Keystone class rings for any parent to buy for their child, the price and quality stamping for these rings are a cut above. I like how other parents said too, these rings have a "simple" uncluttered design over the "catalog rings" brought the to the schools. The mascot and activity emblems are clearly seen. The school name around the stone is also a good layout of the font on the ring.
Customers also viewed these products