Gain Powder Laundry Detergent, Hawaiian Aloha Scent, 100 oz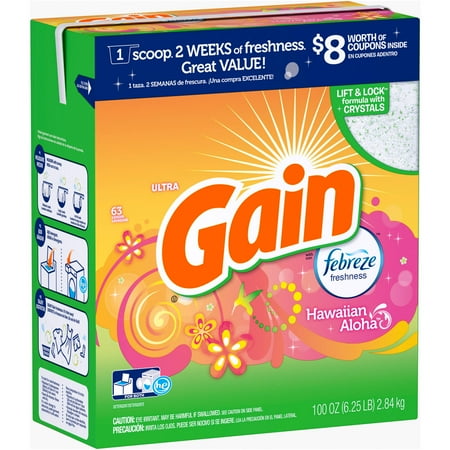 About this item
63 loads
Laundry detergent for the most amazing scent experience
Detergent that lifts away dirt
Customers also considered
About this item
Best seller ranking:
#1,142

in
#280

in
#159

in
Customer Reviews | 26 reviews | 4.7 out of 5
Customer review by
jpsep
I use this detergent on my laundry, it works especially well on my heavily soiled work clothes. i think this powder detergent has the cleansing power and is reasonably priced. Clothes always smell good when I pull it out of the drawer.
Customer review by
Cass
I have used Gain detergent for over 15 years. I really only have to use one scoop per wash. I really like the different scents. The lavender scent gain is my favorite. Laundry detergent is expensive, I try to get a coupon for it. Otherwise, I buy it at Wal Mart . The price is generally less than other competitors.
Customer Q&A
Questions & Answers
1

questions
Ask a question
If you would like to share feedback with us about pricing, delivery or other customer service issues, please contact customer service directly.
---
Thank you.
Questions will be checked against our question guidelines and posted within five to seven business days.