Crayola Play 'N Fold 2-in-1 Art Studio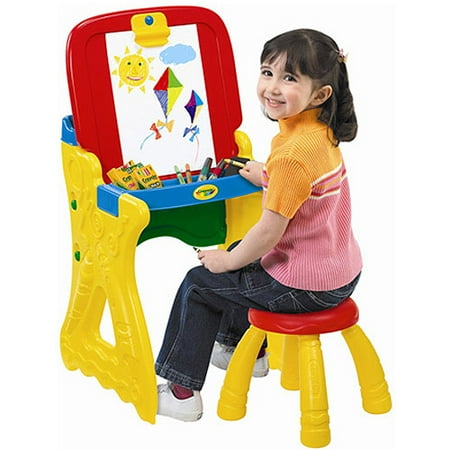 About this item
Age Range: 3 years and up
Multi-purpose desk that converts to an easel
Sturdy, comfortable seat
Includes: 1 desk, 1 stool, 4 sheets of color paper and 1 eraser
Customers also considered

About this item
Best seller ranking:
#985

in
#69

in
#17

in
Customer Reviews | 425 reviews | 4.5 out of 5
Perfect for creative 3 yr olds
Customer review by
BargainMum
I ordered 2 of these for my 3 yr old twin boys. They are the perfect size for them, and they love having all their art supplies at hand to create their masterpieces- I like that their crayons and markers have a home! 4 stars bc there is no paper storage-but the price is great for what you get. Tabletop slides up into easel position nicely, and they love storing their scissors and glue in the tray underneath. They even use it as a snack table, perfect height for their age. They were super easy to snap together- only a few big pieces and only took a few minutes by myself to assemble. Huge hit, great bargain!
Customers also viewed these products