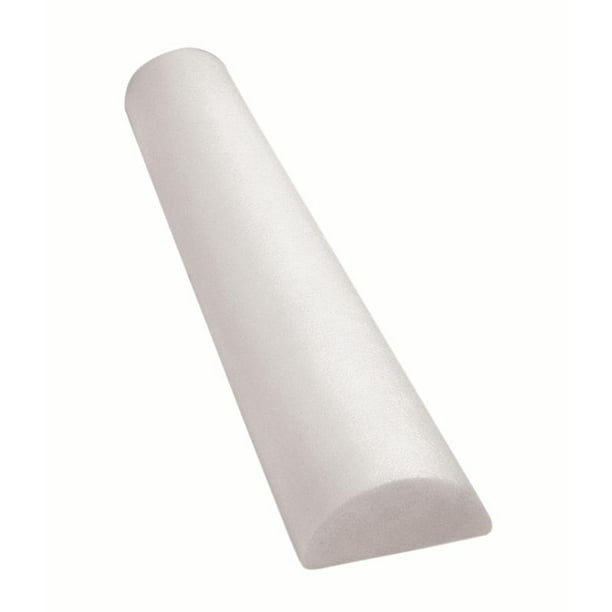 CanDo®
CanDo® Full-Skin White PE Foam Roller For Muscle Restoration, Massage Therapy, Sport Recovery, And Physical Therapy. White, 6" x 12", Half-Round
Size. Select Option. Current selection is: 6" x 12" - Half-Round
Actual Color. Select Option. Current selection is: White
About This Item
We aim to show you accurate product information.
Manufacturers, suppliers and others provide what you see here, and we have not verified it.
The CanDo® High Density Full Skin PE Foam Roller for Muscle Restoration, Massage Therapy, Sport Recovery, and Physical Therapy features premium PE foam that provides both firmness and a soft comfortable touch. These rollers are the perfect myofascial release tool for CrossFit, yoga, Pilates, weight training, bodybuilding, dance, parkour and MORE! Myofascial release helps increase blood flow and the mobility of the fascia tissue. This action over time eliminates pain, restores motion and maximizes performance. These premium rollers are the ones to use for releasing tension in muscles and tissue after workouts, running, physical therapy, and even work!
These premium rollers are also perfect for positioning, balance, muscle posture re-education, spinal stabilization, and other flexibility, strengthening and range of motion exercises. Enhance your workout by making push-ups, planks and other exercises more challenging. After a workout, use round rollers as your own personal massager to give yourself a deep tissue massage and to reduce post workout soreness in the back, hips, legs (thighs, knees, calves, ankles, feet), neck, IT-Band, and shoulder muscles as well as to gain much needed relief by breaking up scar tissue developed during your workout. You'll speed up workout recovery, increase blood flow along with blood circulation. Round rollers offer progressive exercise sequences - users can graduate from an easier (smaller diameter) roller to a more difficult (larger diameter) roller. The Half-Round Foam Roller is also great tool for ankle stretching and knee rehabilitation. You can use it as a rocker board by standing on its flat side to improve your balance.
This extra firm, full skin foam provides durability for long-term use, ensuring the roller will hold its shape and not deform, as well as preventing moisture and bacteria from passing through the foam's surface. The design makes this roller ideal for massaging and releasing tension in muscles and tissue, as well as improving balance and stabilization. It features a solid white or beige finish, making these rollers an attractive addition to any professional clinic or personal home environment. The easy-to-clean design makes these rollers perfect for multi-user environments like gyms or physical therapy clinics.
The CanDo® Heavy Duty PE Foam Rollers are available in 36" and 12" lengths with either a round (circular) or half-round (semi-circular) profile. The diameter of each roller is 6 inches (diameter refers to the width of the half-round profile). The PE foam is durable enough to be used by large adults and active children while the soft design makes these great for beginners as well. It can accommodate all body types and level of fitness from beginners to professional athletes. Use them alone or with other exercisers such as CanDo® exercise bands, tubing, weights and balls. Choose the roller that is right for you!
MUSCLE RECOVERY: The PERFECT tool following intensive workouts, like CrossFit, Yoga, Pilates, Weight Training, Bodybuilding and even Dance, the CanDo® PE Foam Roller is great for increasing blood flow and improving blood circulation. This is THE Roller that's recommended more often and seen in more Physical Therapist offices than any other!
REHABILITATE: As seen in clinics and gyms nationwide, this roller is ideal for stretching and rehabilitating hips, legs (thighs, knees, calves, ankles) back, neck and shoulders.
MASSAGE: This foam roller is also a great massager. Turn it into your own personal massage therapist and use it for a deep tissue massage after an intensive workout. It works great on loosening and unknotting tight muscles while restoring flexibility.
MUSCLE THERAPY TOOL: With a 6" diameter on each roller, this is a great option for improving balance. It also works well for muscle posture re-education, spinal stabilization and other motion and strengthening exercises.
VERSATILE DESIGN: This durable, high density foam roller can be used by large adults and highly active children. This roller fits all body types and is uniquely designed to fit the needs of both beginners and professional athletes alike. Full skin ensures the roller will hold it's shape and not deform even after long-term use. Easy to clean, this is a commercial grade therapy roller available for home, personal use.
Specifications
| | |
| --- | --- |
| Brand | CanDo® |
| Manufacturer Part Number | fab-30-2341 |
| Assembled Product Weight | 1 lbs |
| Manufacturer | Fabrication Enterprises |
| Color | White |
| Lifestage | Adult |
| Model | fab-30-2341 |
| Assembled Product Dimensions (L x W x H) | 12.00 x 6.00 x 12.00 Inches |
---
---
---