BOSS Audio Systems CH6930 Chaos Series 6 x 9 Inch Car Stereo Door Speakers - 400 Watts Max, 3 Way, Full Range Audio, Tweeters, Coaxial, Sold in Pairs
Prices may vary online, in stores, and in-app
Free shipping,

arrives by Fri, Aug 19

to
Want it faster?
to see options
Free 30-Day returns
More seller options (4)
Starting from $41.99
Protect your purchase
Get the best value on product protection including fast repairs or replacements.
Add Walmart Protection Plan by Allstate

Sponsored
BOSS Audio Systems CH6530B Chaos Series 6.5 Inch Car Stereo Door Speakers - 300 Watts Max, 3 Way, Full Range Audio, Tweeters, Coaxial, Sold in Pairs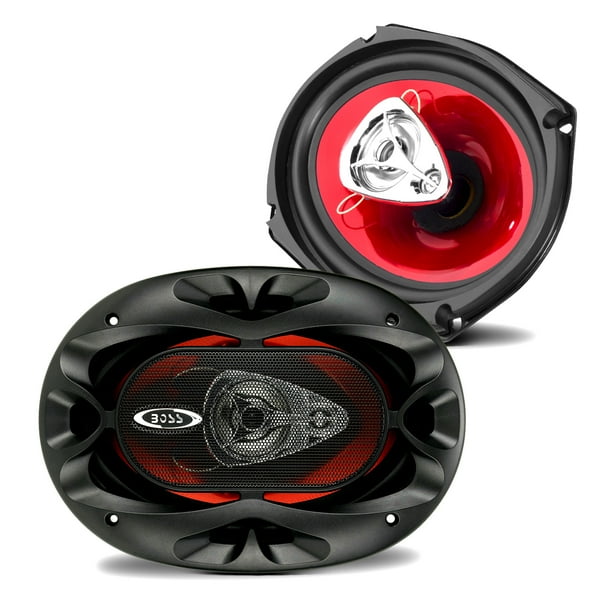 About this item
Product details
BOSS Audio Systems CH6930 Chaos Series 6 x 9 Inch Car Stereo Door Speakers - 400 Watts Max, 3 Way, Full Range Audio, Tweeters, Coaxial, Sold in Pairs Car Speakers - 400 Watts Per Pair, 6 x 9 Inch, Full Range, 3 Way, Sold in Pairs
Cone - Made from polyurethane, the CH6930 6 x 9 inch car speakers provide a resilient and durable material that can offer great sound with the advantage of long lasting speakers
Voice Coil - Our voice coils are able to withstand high temperatures yet maintain its strength and fatigue properties. This gives our speakers the advantage of longer play times with lower weights
Surround - Rubber has the ability to endure much punishment without any sign of damage. It complements the whole structure of the speaker by allowing constant abuse where it is most needed, without the wear and tear
Tweeter - A Piezoelectric tweeter is more resistant to overloads and can be used without a crossover due to its' electrical property
Basket - The stamped basket offers a strong and rigid platform allowing the listener to hear clean and clear music output
Warranty - BOSS Audio Systems provides a powerful 3-year platinum online dealer warranty so long as the purchase is made through Amazon.com. We strongly encourage professional installation of this product to ensure proper and safe functionality
Full Range 6" x 9" 3-Way Speaker Pair
400 Watts MAX 200 Watts RMS Power Handling per Pair
50 Hz to 20 kHz Frequency Response and 92dB Sensitivity
Poly Injection Woofer Cone and Rubber Surround
1 Tweeter and 2 inch Polyimide Cone Midrange Per Speaker
Sold in Pairs
We aim to show you accurate product information.
Manufacturers, suppliers and others provide what you see here, and we have not verified it.  
Specifications
Features
Chaos Exxtreme 6" x 9" 3-Way 400W Full Range Speakers (Sold in Pairs)
Manufacturer Part Number
CH6930
Assembled Product Dimensions (L x W x H)
9.25 x 6.50 x 4.00 Inches
Warnings
Warning Text
proposition 65 reasons:WARNING: This product contains chemicals known to the State of California to cause cancer and birth defects or other reproductive harm.
Similar items you might like
Based on what customers bought
Customer reviews & ratings
Most helpful positive review
Bought them for am/ fm stereo cd car radio that I mounted in my garage. Speakers are PERFECT. Speakers have great quality sound .
Most helpful negative review
1 customer found this helpful
excess emails to review a product.
Product was OK, not exactly what I expected. I don't like the use of multiple emails to review all aspects of order. I probably will not use online ordering again, I would prefer to pay the shipping and give a fake email.
Bought them for am/ fm stereo cd car radio that I mounted in my garage. Speakers are PERFECT. Speakers have great quality sound .

Very good speakers. They came with everything I needed in order to install them and they sound great. I plan to soon hook up an amp to them and see how they sound then, but as they are they are pretty great. Deffinitely louder than thestocks, and worth the price. |,,,/(-_-) Thumbs up.

I have a lot of experience with speakers. These didn't sound phenomenal at first. (Though still way better than the factory speakers cars come with.) I was gentle on them for about a week (mid/mid-high volume only) and once they were broken in I could crank on them and they could handle it easy w/ excellent sound. Highly recommended for the price.

MY 99 cavalier rear speakers were gone so I found these at a good price. The speakers came with plastic covers I did not need and mounting nut bolt set that would work. However, I chose to drill out the mounting holes so I could install slightly larger bolts. The speakers fit standard 6X9 openings. Used the enclosed speaker wires and cut and spliced them into the stock wires. Happy with my purchase.

For the price, these are excellent!! I have an older car whose speakers were blown. I didn't want to spend a ton of cash. These installed quickly and easily. The sound quality is very good for a low price speaker. The construction quality is very well too. With the built in tweeters you get a wide range of sound. It's a win win...
Check out these related products
Notice unusual marketplace activity?
Report