Alien Anthology (Blu-ray) (Widescreen)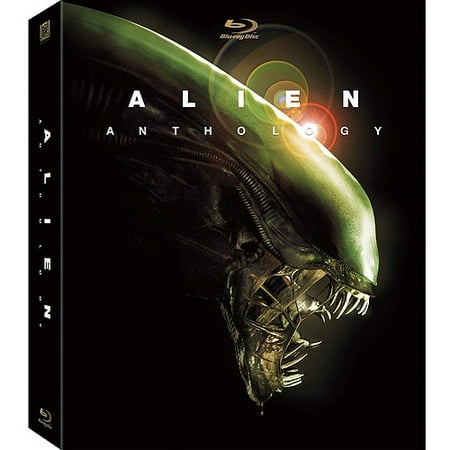 About this item
Twentieth Century Fox Alien Anthology [blu-ray/6 Disc/ws/eng-fr-sp Sub/sac]
Customers also considered

Check out these related products


About this item
Best seller ranking:
#2,272

in
#389

in
#35

in
Customer Reviews | 35 reviews | 4.9 out of 5
Price drop/on sale? in store
Customer review by
SoCalPhil
There is another review on here that describes all you get (and it is a lot!) and tells how he got this for $35 down from it's original $70 but I walked into Walmart today not even thinking about buying any movies when I saw this for $25! Well as a fan of the Alien movies this could not be passed up! Everything in HD Blu-Ray! With my home theatre system it's like I'm right back at the theatre! This is a MUST HAVE for any Alien fan! Even the 2 blu-rays full of extras is worth watching!
Customer review by
Longshot01
This was on my wish list, but at $70.00 (although well worth it), I kept putting it off. Needless to say, when I saw it in store today for $35.00, I grabbed it up and I am an extremely happy camper. First off, great packaging. This anthology comes in a small hardcover book with an insert from director Ridley Scott. It includes 6 BR discs, (4 movie discs and 2 special feature discs). The discs all have their own page (slot) and mine were all in perfect condition. Disc 1 - Alien - 1979 Theatrical Version and the 2003 Directors Cut. Disc 2 - Aliens - 1986 Theatrical Version and the 1991 Special Edition. Disc 3 - Alien 3 - 1992 Theatrical Version and the 2003 Special Edition. Disc 4 - Alien Resurrection - 1997 Theatrical Version and the 2003 Special Edition. Discs 5 & 6 - 50 hours of Supplemental Materials. According to Mr Scott, this anthology took two years to make and includes all the bonus materials from the Special Collectors Edition Laser Discs, the 1999 "Legacy" DVD set and the 2003 "Quadrilogy" DVD set. It also includes several hours of newly compiled extras that are exclusive to this "Anthology" release. All 8 movies (theatrical and special editions) contain full length audio commentary. This also includes Blu-Ray only features such as interactive timelines and datastreams of production notes and historical facts as you watch. Unseen dailies, deleted scenes, in depth behind the scenes featurettes, over 12,000 pics and art stills, isolated scores including alternate and unused cues, archival documentaries, test footage, TV specials, multi-angle studies and more. Bottom line - This was well worth the original price, but at $35.00, this is an absolute "must have". This box set also goes quite nice with the AVP Blu-Ray box set.
Customers also viewed these products