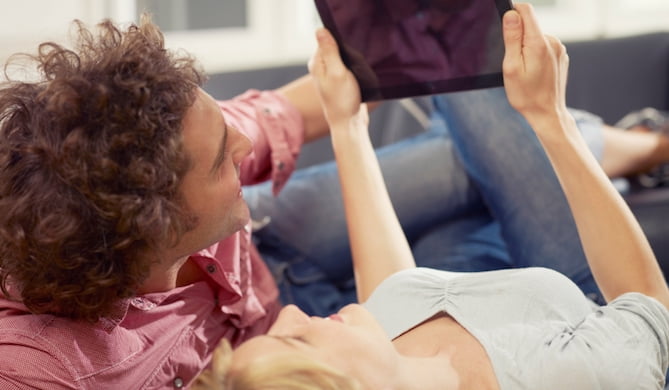 Congratulations! When you and your special someone are beginning to plan your lives together, you are likely starting to register for gifts so friends and family can help celebrate this new stage in your lives.
Walmart's gift registry for Wedding is easy to use and available wherever you are — whether you are registering in-store with your smartphone or from the comfort of your living room on your laptop or tablet.
There are a couple of easy ways to start, update and share your registry. Here's how to get going:
On the Walmart app:
Select "Gift Registry" from the main menu
Choose  "Create Wedding Registry"
Complete the information requested, including your full name and the date of your wedding
Press "Create Registry" button, and start registering for gifts
The Walmart app allows you to register for products in-store by scanning an item's UPC bar code; or browse thousands of the products you want by category wherever you are.
Buying a registry item in store for a friend or family member? Scan your receipt after you check out to update their registry and prevent duplicate gifts.
On Walmart.com:
At the top of any Walmart.com page above the Search bar, select "Registry"
Select "Wedding Registry"
Complete the information requested, including your full name, the baby's due date or the date of your wedding and where you live
Select "Create Registry" and start browsing Walmart.com for gifts
Be sure to share your registry with your friends and family via email or Facebook with the "Share" button at the top of the page
From either the Walmart app or the Walmart.com registry page, you can update your gift registry by adding or removing items and even see how many items from your registry have already been purchased. If you are looking for some advice on what to register for, each registry has a helpful Registry Checklist to cover the essentials and some of the extras, too.
Let your friends and family know you are registered at Walmart by printing out the registry cards below and placing them in your baby shower or wedding invitations. These business card-sized inserts come 10 per page and can be printed on most Avery business card paper stock (10 2 inch x 3 1/2 inch cards per page).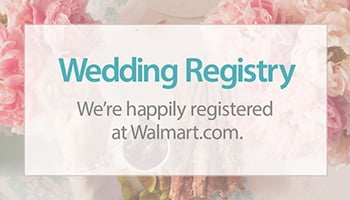 Congratulations on this new stage in your lives, and happy registering!