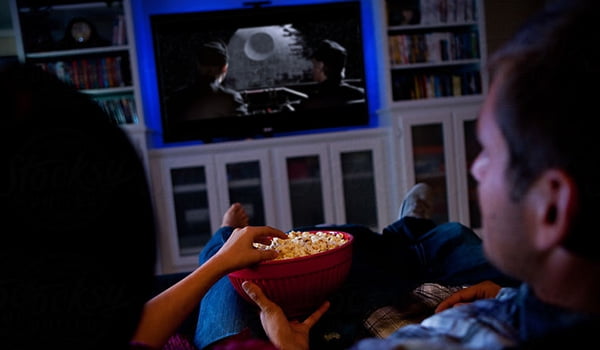 Ready to let your Star Wars geek flag fly? If so, you've got to go full Force. Or, as Yoda would say, "Do. Or do not. There is no try." With the right touch of Jedi-level party planning skills, you can put together a Star Wars movie night celebration that rivals a wild night at the Cantina. And what better time to gather your own rebel alliance together than just before the release of the highly anticipated Rogue One: A Star Wars Story!
Lucky for you, a great Star Wars viewing party doesn't require years of Jedi training—just the great ideas featured in the guide below. From how to screen the movies and decorating ideas, to yummy treats you can serve and entertaining activities to offer, we've got you covered. Here, young Padawan, is how to get your Star Wars viewing party started…
Choose your episodes
Are you a traditionalist who prefers to watch the Star Wars original trilogy (episodes IV, V and VI), or are you up for an all-day event to watch all seven films chronologically? Star Wars: The Force Awakens is now available for purchase and digital download – so you could even keep the party to showing the newest installment. Whichever path you choose (as long as it's not the Dark Side, that is), go big! You could screen the movies on a 4K UHDTV, set up an outdoor movie screen with a sheet and a projector or stream each movie in HD on VUDU.
Set the scene
You don't have to turn your home into a replica of Tatooine in order to feel like you're in a galaxy far, far away. A few well-placed pieces of Star Wars decor like movie posters, decals, balloons and colored streamers to represent Team Jedi vs. Team Sith can go a long way.
Recreate famous battles
Star Wars fans are never too old to break out into a lightsaber duel, making it the perfect in-between-movie activity. Using pool noodles or long balloons, along with some silver duct tape and a black marker, you can make some DIY lightsabers. Bonus points for whoever wields the double-edged Darth Maul weapon.
Make the movies interactive
Since your guests have likely seen the Star Wars movies many times, incorporating a trivia contest mid-film, or encouraging everyone to talk like Yoda or do their best Vader impression, can send the fun factor into hyperdrive.
Go cosplay crazy
Who says you have to wait until Halloween to dress up like your favorite Star Wars character? A themed Star Wars movie night is the perfect excuse for the ladies to wear their hair in Princess Leia side buns or Rey's headwrap, dress the kiddies like Jawas or Ewoks, or provide Rebel masks for an instant costume. A few key Star Wars accessories can help everyone look their part. You could even set up a makeshift Star Wars photo booth using a selfie stick and some fun props.
Feed your Star Wars obsession
Whether you decide to set up a buffet or serve finger foods or movie-style snacks, have fun incorporating the Star Wars theme. For instance, you can make character popcorn bags, Jabba-slime-green Jell-O, or use colored chocolate melts to turn pretzel rods into red and green lightsabers. Pinterest is overflowing with lots of clever ideas from all over the galaxy (Storm Trooper marshmallows and Wookie cookies, anyone?). Serve it all up with Star Wars party supplies, and decorate your tables in Sith red and black.
Keep the theme going
For any guests who don't want to stay glued to the main screen the whole time, you could set up a game console in another room to play Star Wars video games, or give younger ones the option of watching one of the Star Wars animated series.
When you began this article you were but the learner; but now, you are the master. You've learned that you can pull off an amazing Star Wars movie night without spending a fortune. All you have to do is search your feelings, and you can throw the best viewing party in the galaxy. Happy viewing, and until December, may the force be with you!