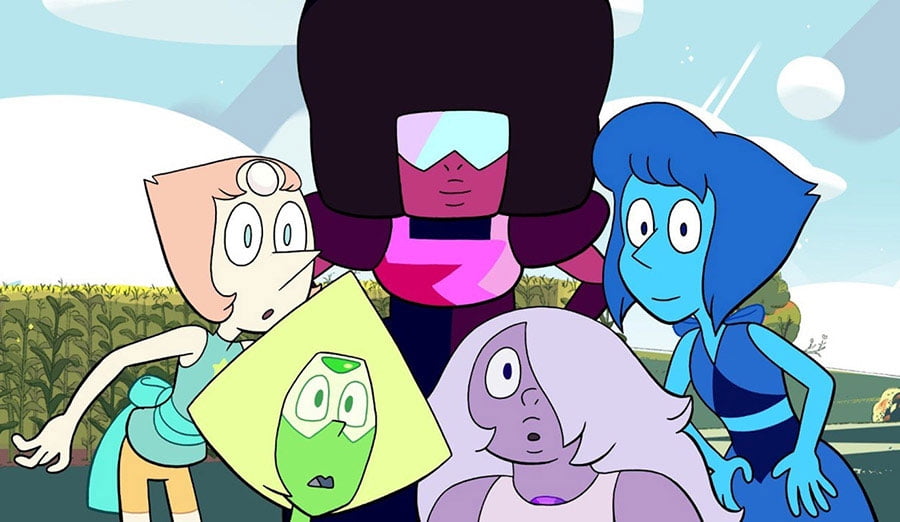 A different kind of superhero story
Is it possible for a cartoon about an ages-old galactic conflict and people with superpowers to be, you know, gentle? You might expect frank discussions about feelings and understanding in episodes of Daniel Tiger's Neighborhood, but not on the Cartoon Network. After years of edgy fare like Adventure Time, CN has now found one of its biggest hits in Steven Universe. Animator Rebecca Sugar, who wrote and storyboarded episodes of Adventure Time, launched Steven Universe in 2011.
The show features a complex mythology centering on the Crystal Gems, aliens who hail from an ancient, interstellar empire. But at its heart it's a coming-of-age tale about a little boy who befriends the Gems. This boy, Steven (voiced by Zach Callison), soon discovers he has his own connection to them. The Gems are the outgoing Amethyst (Michaela Dietz), high-functioning Pearl (Deedee Magno) and ultra-competent Garnet (Estelle). They're voiced by female actors and depicted with varying, realistically human body shapes.
Steven Universe made history right from its inception. It was the first Cartoon Network program created and developed solely by a woman. And just before Comic-Con week the show broke more new ground. The final episode of Season 5, "Reunited," brought a wedding between Ruby and Sapphire, two "female coded" characters who fuse to become the powerful Garnet. The show made Cartoon Network history by featuring the first same-sex proposal and wedding on the network.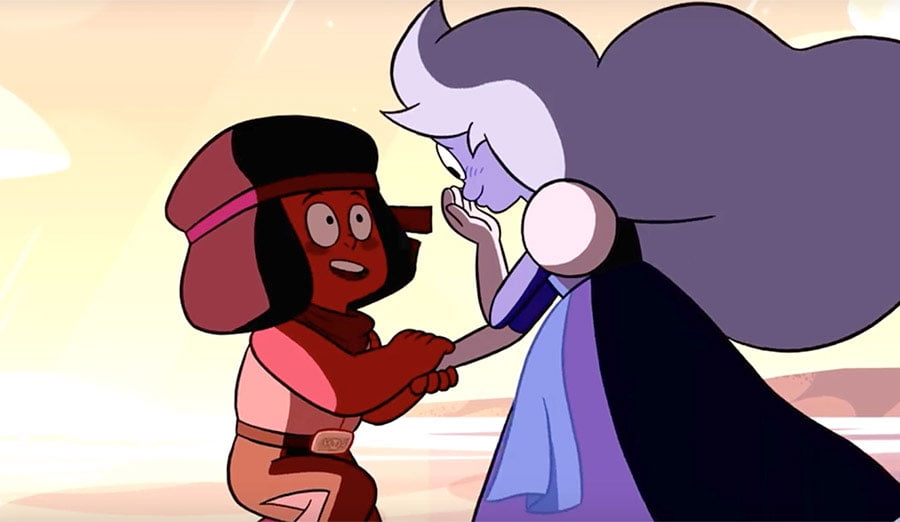 Creating positivity and acceptance
Rebecca Sugar, who prefers the gender neutral pronoun "they," made more news last week in an interview discussing the characters on NPR's 1A with Joshua Johnson. "One of the things that's really important to me about the show is that the Gems are all non-binary women. They're very specific and they're coming from a world where they don't really have the frame of reference. They're coded female, which is very important. They wouldn't think of themselves as women, but they're fine with humans interpreting them that way. And I am also a non-binary woman, which has been really great to express myself through these characters because it's very much how I have felt throughout my life."
Sugar based the series on their relationship with their younger brother Steven, a background artist on the show. Steven Universe features characters confronting complex and difficult emotions and relationship issues. Sugar designed the Crystal Gem characters to be able to divide into component characters like Ruby and Sapphire to illustrate aspects of themselves. "We made relationships into characters that are cool," Sugar said in the NPR interview.
Sugar will appear with Estelle and experts from the Dove Self-Esteem Project to host a "Superheroes of Body Positivity" panel in the Horton Grand Theatre on Thursday at 4:30PM. They'll join the show's cast in the Indigo Ballroom at 10AM Saturday for the official Steven Universe panel. Fans will also be able to immerse themselves in the show's world at the Cartoon Network booth. There's even a chance to enter an "epic parallax scene" with their favorite characters.