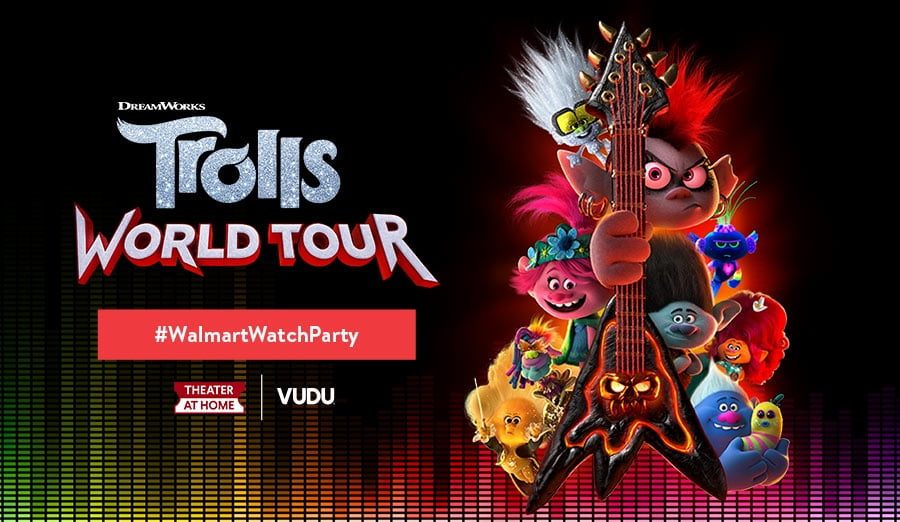 Join the party as we get a little bit country, a little bit rock n' roll, and have a whole lot of fun with activities, trivia, and BIG surprises!
Trolls World Tour pre-show red carpet event
Get the band back together and bring your family to our Trolls World Tour virtual red carpet event on Twitter! The party starts party at 5:30PM ET on Friday, April 10th. 
We'll be checking in with some of your favorite family influencers to see how they're rocking out for the Trolls World Tour premiere. There will be movie trivia, favorite character talk, and so much more. 
We're even helping you get red carpet ready with wardrobe, makeup, party kits, snacks, and more – all Troll-themed of course. Visit our Trolls World Tour premiere party page for makeup and hair tutorials to get the family troll-ified, and even an actual red carpet premiere backdrop so your kids can be the stars of the show! Top it off with some cool DIY musical instruments to rock out with and you've got a full afternoon of Troll pre-party fun. 
Kenan Thompson, the voice of "Tiny Diamond" will be joining our red carpet event and watch party!
Trolls World Tour #WalmartWatchParty 
Watch parties are an interactive movie-watching experience that you can join from your mobile device or computer using Twitter. 
The Trolls World Tour watch party will start right after the red carpet event. Just press play on your copy of Trolls World Tour (available on Vudu) at 6:00PM ET so you're synced with us and follow along for lots of great movie facts, behind the scenes clips, trivia, polls, surprises, and more!
Then the excitement begins! Join the conversation using hashtag #WalmartWatchParty and share your reactions, learn some fun trivia, and rock out to Trolls with Walmart, Vudu, and other special guests. 
How do I join? 
1) Rent your copy of Trolls World Tour on Vudu
(Pre-order your rental now and get $5 credit toward a future rental or purchase of another movie! Credit sent via email within 48 hours)
2) Follow @Walmart and @VuduFans on Twitter. (Accounts are free and you can sign up here)
3) Visit Walmart's Twitter page on 4/10 at 5:30PM ET for our virtual red carpet event and then watch Trolls World Tour with us at 6:00PM ET
4) Join the conversation with #WalmartWatchParty
Rent Trolls World Tour on Vudu and join the at-home watch party on Twitter starting at 6:00PM ET #WalmartWatchParty
Trolls World Tour: Come for the message, stay for the music
Trolls World Tour takes us to a ton of colorful places without ever having to step outside of our living rooms.
Anna Kendrick and Justin Timberlake return as the voices of Poppy and Branch, and they find out the world isn't as small as they thought. The cute trolls discover that they're one part of six different troll tribes. Each tribe embodies a different music genre: Rock, Pop, Classical, Techno, Country and Funk. And the Queen of Rock, played by Rachel Bloom, wants there to be only Rock music, so she sets out to destroy all the other worlds. It's up to Poppy, Branch and their friends to stop her and come together with the rest of the trolls. 
The movie has lots of great positive messages for little ones. The trolls represent different music genres and look very different but all are represented equally. Throughout the movie, we see that they're all important in their own unique ways. 
Plus, this means that whether you're a country lover, a rock fan, or anything in between - there's something here for you and the whole family. The talented cast makes for some awesome music too. The film includes appearances from music legends Ozzy Osbourne, Kelly Clarkson, Mary J. Blige, Gwen Stefani and more. 
So make some popcorn, get the family together, and good luck not dancing in your seats. Trolls World Tour is the glitter explosion of fun you need.