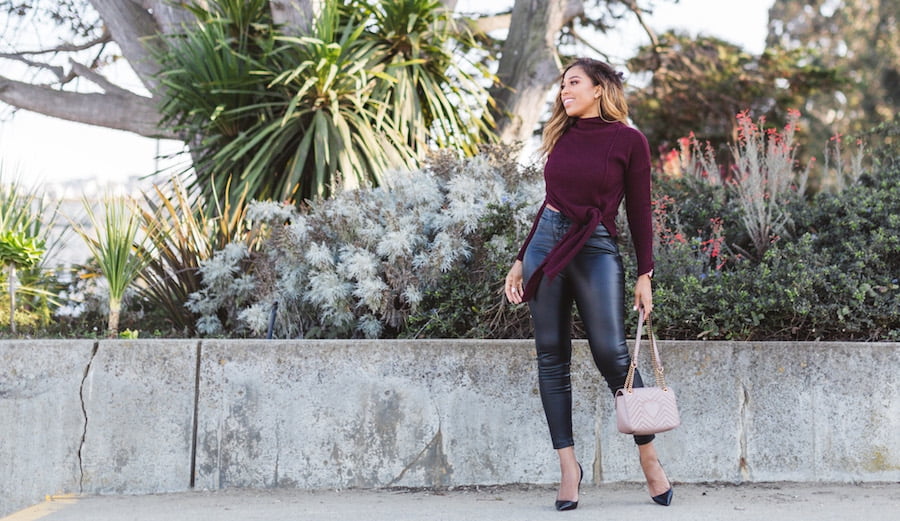 Sure, plaid gets all the attention. But there's one cool-weather fabric that gets cooler every year: faux leather. In addition to being practical—it's less expensive than leather, most of it is somewhat waterproof and it's usually super lightweight—this versatile texture can add a little bit of edge to any wardrobe. 
Call it vinyl, call it pleather, call it vegan. Whatever you call it, it's fabulous. And it's one of those eternal classics that you might overlook until you actually see someone else rocking it. We asked local fashionista Chantelle of LoveChauntie to style three of our favorite pleather silhouettes—a skirt, a jacket and leggings. We love the looks she created, and we bet you will too. (Just hover over the photos to check out the pieces!)
Skirting the issue
You just gotta love a pleather skirt. It's just as cute as the real thing, except you don't have to worry about sitting down on the bus. Chantelle styled this mini (unfortunately, it was so popular that it sold out, but of course there are tons of great fab faux options) with a couple of classic pieces you've probably already got in your closet: a white tee and a simple denim jacket.
Moto glam
A classic moto jacket is a great piece to wear over an elegant-yet-cozy velvet dress for a night out on the town this winter. It's an ideal choice if you're going out to parties: it's pretty much spill-proof and sometimes breathes better than real leather.
Ultimate faux leather leggings
Sweater weather just got sleek and chic. Bold, versatile and deceptively comfy, a pair of faux leather leggings is a true must-have for winter. If you're already gonna wear leggings with boots and a cozy sweater as often as possible all winter long (and let's face it, who's not?), that decision might as well add some edge to your look.
A very important style note: faux textiles, and faux leather in particular, have come a long way in the last couple of decades. This isn't the stiff and sweaty stuff of 80s music videos. There are lots of good reasons pleather is eternally beloved by fashion houses from fast fashion to haute couture. Believe it or not, designers often describe today's faux materials as better than the real thing. 
If you decide to take the pleather plunge, have fun with it (maybe check out some bags in addition to the stuff Chantelle rocked above), and most importantly? Think of faux leather as a new way to live your best life, all winter long.