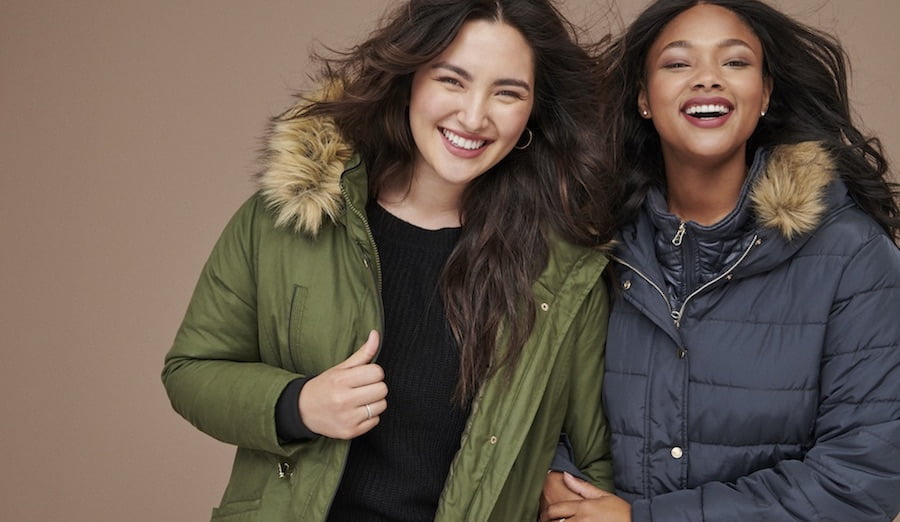 As the digits drop, we've got your lucky number: seven—cute coat styles, that is. We just can't keep our excitement under wraps. If you're like us, whether it's strolling through the autumn leaves or frolicking in a winter wonderland, cute coats and adorable outerwear make cooler temps extra appealing. From puffers to peacoats and everything essential in between, we'll look at styles to suit your every mood, occasion and budget.
 
Puffer coat
When the weather outside is frightful, the puffer coat is just delightful. If you live in a climate that experiences cold winter temps, you'll want to keep one of these handy.
You'll know it by: its quilted and slightly or very puffy look; the lightweight but extremely warm down or synthetic fill; short-to-long length.
Look for: nipped-in and belted waists that can keep you from looking like the Michelin Man; fun detailing like faux fur-trimmed hoods.
Best for: keeping the coldest temps at bay while still looking cute.

Peacoat
Designed in the Netherlands hundreds of years ago for navy sailors, the classic peacoat cut endures as a cold weather favorite among landlubbers around the world.
You'll know it by: its broad collar (stand it up to keep a chill off your neck); faux or real double-breasted styling and slightly nipped-in waist; mid-length cut.
Look for: bright colors and fun prints that offer a twist on the traditional navy color.
Best for: timeless, everyday casual style.

Wrap coat
Bundle up in elegant style with a relaxed wrap coat.
You'll know it by: the belted closure and lack of outer buttons; mid-length cut.
Look for: wide, slouchy, softly cascading collars; straight, A-line or asymmetrical cuts.
Best for: when you want a coat that can pair up with skinnies or a cute dress without ever missing a beat.

Swing coat
A swing coat makes it easy to up the femininity factor even when it's frigid outside.
You'll know it by: the full or pleated skirt-style body that moves when you do; mid-length.
Look for: belted options that emphasize the waistline; buttons at just the top and a looser, more open bottom.
Best for: adding a pretty touch to your cold weather wardrobe, whether you're wearing leggings or a dress with tights.

Boyfriend coat & walker coat
Button up your fall or winter look with the tailored boyfriend coat and walker coat styles.
You'll know them by: the menswear-inspired styling, including straighter cuts and narrower lapels; boyfriend coats will be slouchier, while walker coats will offer a more structured, polished look; both are mid-length.
Look for: classic colors like camel and black as well as bright hues.
Best for: creating a more structured, slightly masculine look.

Anorak
Gear up to look good on a crisp fall day with a sporty anorak jacket.
You'll know it by: its military/expedition-inspired styling; the lightweight cotton or synthetic material (not suited for very cold weather).
Look for: details like functional or decorative metal buttons, snaps and zippers; cinchable waists; cargo pockets and stowable hoods with or without faux fur trim.
Best for: the fall casual chic look.

Softshell jacket
This sporty style pairs up nicely with anoraks when the weather starts to cool off. Softshell jackets also offer a stylish alternative to sweatshirts, whether you're exercising or running errands.
You'll know it by: its relatively close fit, zippered closure and stretchy, synthetic material.
Look for: handy things like zippered pockets, hoods, neck coverage and reflective detailing.
Best for: running a mile or running some errands—it's an everyday essential.
Ready to look fabulous as you face the frost? Find these and even more great-looking, well-priced options in our Jackets & Outerwear department.