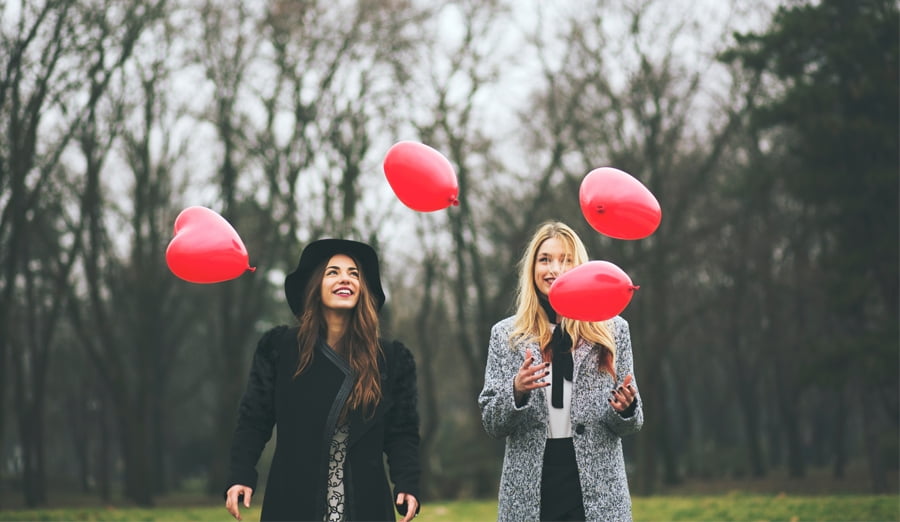 Who says you need a significant other to celebrate love when you have your best gal pals? Here's where "Galentine's" Day—the February 13 unofficial holiday that honors friendship among women—comes in. Check out these three fun and affordable ways to share the love with your friends, including a spa slumber party, besties' brunch and girls' night out.

Spa slumber party
Pajama onesies: check. Mud masks: check. Board games: check. Best buds: double check! If your gals are looking to de-stress, unwind and catch up on each other's lives, a spa slumber party will deliver.
Your gal pal plan:

 

Elevate a night in with your best friends by recreating everything you love about a spa—the relaxation and beautification—with skin-soothing sheet masks, a mini facial steamer and nifty nail art stickers that mimic a pro manicure. Add party-perfect elements that will keep you chatting well into the morning hours, like an '80s movie marathon, women-specific charades, fuzziest slippers competition or a board games tournament. (What's not to love about a little rivalry between girl friends?)
Your goodies:

 

Stock up on nail lacquers that you'll not only use to paint each other's fingers and toes, but also to gift your BFFs as a sign of your appreciation. Stash a DVD of a rom-com that speaks to your friendship or an adult coloring book into their goodie bags, and be sure to include their tournament scorecards as a reminder of who bested whom! Grab everything you need for your at-home spa kit right here.
Your duds:

 

This is a slumber party, after all, so be sure to wear your comfiest pajamas (onesies encouraged!) and fluffiest slippers—and request on the invite that your gal pals do, too.

Besties' brunch
Sipping mimosas, digging into a double stack of pancakes and dishing about whatever motivates the group—exes, politics, pop culture, the latest best-selling book: brunch is definitely a Galentine's Day do.
Your gal pal plan:

 

Whether you gather friends at your favorite brunch spot or you host a mid-day soiree at your home, be sure to keep the conversation

 

and champagne flowing. Going dry? Offer up sparkling water or juice garnished with berries in champagne flutes.
Your goodies:

 

Gift your gals items that will spark debate well after your brunch date—think: books by women authors or daily calendars with quotes by and for women. Sweeten the day with yummy fancy jams or teas they can take home or decorative mugs bearing empowering statements that will remind them of your unique friendship every time they take a sip.
Your duds:

 

Dress casual yet cool; skinny jeans, a leather jacket and ankle booties will do the trick. Keep your makeup fresh with a dab of light blush, a swipe of mascara and a neutral eye. Get some more ideas for brunch beauty must-haves here.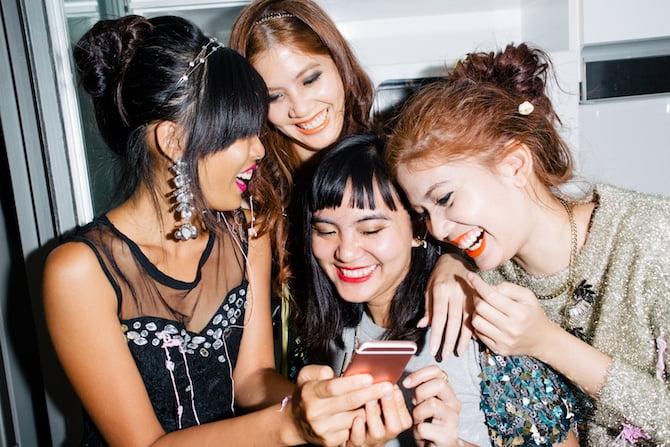 Girls' night out
Whether your crew knows its way around a dance floor or you all simply enjoy dressing up for a night out, painting the town red with your BFFs is a foolproof way to cut loose and celebrate what binds you together.
Your gal pal plan:

 

Print out cute maps of hot spots to hit, and pass them to your friends as a keepsake of your adventures. Pre-escapade, gather your pals in your home to get ready as a group and snap photos every step of the way.
Your goodies:

 

Show gratitude for your best buds with budget-friendly heart-shaped earrings, sparkling glitter nail polish or a glam eye shadow palette that they can wear the night of. Gift yourself an affordable Fujifilm

 

Instax Mini 7s Instant Camera

 

so you can capture selfies with your posse, and be sure to dole out the pictures to your friends post-party with handwritten notes on the photos' borders.
Your duds:

 

Ensure your skin glows in every single photo by brushing highlighter over the tops of your cheeks and temples. Pair your picture-perfect skin with sparkling eye shadow, eye liner, a bold lip and a little black dress that boosts your confidence, first and foremost. Check out some more ideas for what you'll need for a girls' night out right here.
The best part about Galentine's Day ideas and gifts? They don't have to break the bank. So no matter what you plan, focus on activities that boost confidence, encourage well-being and show your girl squad how much you value each and every one of them.