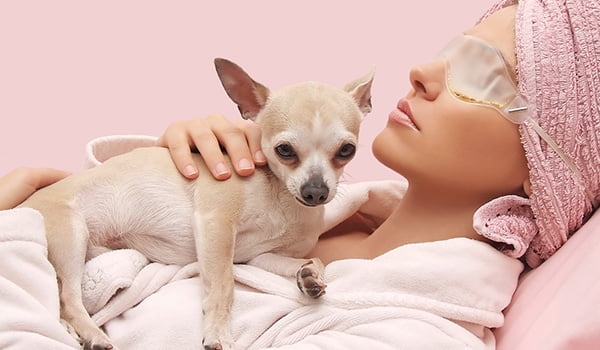 Who doesn't love the idea of a spa day? But, let's be honest: between the time and money, it's a luxury most of us can't enjoy as often as we'd like (and by that we mean: weekly). Which is why we've come up with five easy and affordable ways to treat yourself to a little head-to-toe pampering—right at home.
1. Get glowing
Here are some simple ways to reveal fresh, new skin and keep it baby soft:
Gently exfoliate your face with a facial brush, chemical exfoliant or enzyme exfoliant to remove dead surface cells and give your face a glowing look. Not sure which exfoliant to choose? Read All about Exfoliation to get started.
Exfoliate your body, too. Don't let your face get all the VIP treatment! Your body will also enjoy a good scrub down. Use a body scrub and—for bonus points—pair it with a loofah. Just remember: scrubbing harder is not better.
Moisturize. Apply face cream to help lock in moisture. Be sure to choose a formulation that works for your skin type. Normal skin can use most moisturizers; oily skin does best with oil-free moisturizers; dry or mature skin usually likes richer formulations; and sensitive skin does well with fragrance-free moisturizers. Remember to also moisturize your body with a good body lotion. Choose a lighter formulation in warmer months and something richer when temps dip.
2. Pamper your peepers
Sometimes all we need to feel rejuvenated is a few minutes to simply shut our eyes and relax. Go one better with two products that will have you looking and feeling your best in no time.
Eye mask. A soothing eye mask can help you rest your eyes while providing other benefits. If your eyes are puffy, use a cool eye mask—leave it on until it no longer feels cool. Sinus pain and pressure plaguing you? Try a warm eye mask. Bonus points for eye masks that can be used either cool or warm.
Eye treatment. Follow up by applying an eye treatment that addresses any skin care concerns you have, whether it's fine lines and wrinkles or puffiness. Remember: the skin around the eyes is fragile, so don't rub and pull it—instead, apply treatment with your ring finger, lightly tapping the product on to your skin.
3. Put your best foot forward
Our feet get us from here to there every single day. The least we can do is take care of them now and again.
Foot scrubs are a great way to ease tired, sore feet. Look for refreshing ingredients like mint to get your toes tingling in the best way. Try soaking your feet in a warm foot bath for 10 minutes before gently scrubbing away rough patches of skin.
Foot cream. Use a rich foot cream to give yourself a gentle foot massage—you'll feel the relaxing benefits through your whole body. And great news: there's no wrong way to massage your feet. Be sure to pay attention to your ten little piggies, too.
4. Enjoy relaxing scents
Feeling more relaxed can be as simple as taking a nice, deep, slow breath. And it's even better when we inhale delicious scents like lavender, citrus or mint.
Bath salts. Ease tense muscles by soaking in a soothing tub of bath salts that include your favorite scents. And if you use Epsom salt (which is not truly salt, but a naturally occurring mineral compound of magnesium and sulfate), you'll enjoy even more benefits. Epsom salt's high magnesium content makes it a natural stress reliever.
Scented candles. Set the mood for serenity with a candle in a scent you love. Then switch off the lights and drift into bliss.
5. Treat your tresses right
Give your locks some extra TLC and they'll probably forgive you for the abuse you dish out with heat and styling.
Scalp massager. While a scalp massager won't physically touch your brain, we're pretty sure it'll do a solid job of helping you disconnect from it, even if for a few minutes. Massaging your scalp is not only relaxing, it also promotes circulation, which contributes to scalp and hair health.
Deep conditioner. After your little scalp massage, follow up with a luxurious deep conditioning treatment. For extra oomph, put on a shower cap for several minutes to create heat and help the conditioner penetrate deeper into your hair.
Feeling ready to relax? Don't feel like you have to limit yourself to those rare, special days when you have time to do all of these things. Try just working one of them into your life every week or two. You'll feel—and look—better for it.