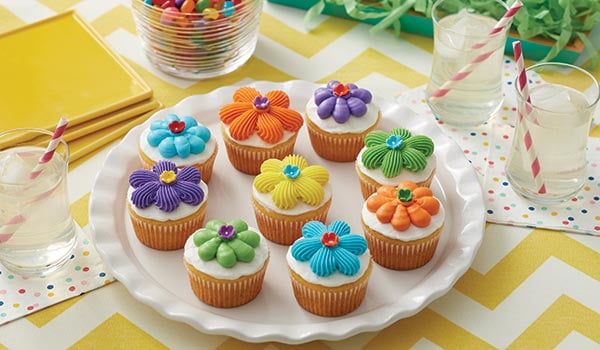 How to make Flower Power Cupcakes with your favorite cupcake mix and just a few frosting decorating tips. These spring cupcakes are perfect for birthday parties and other spring celebrations. Mix and match colors to your liking to create treats that are perfectly suited to your party.
Supplies:
For the cupcakes:
Favorite cupcake recipe or mix (4 ½ to 5 cups batter needed for 24 cupcakes)
24-Cavity standard muffin pan
Cupcake liners  (white)
Cooling rack or grid
For decorating:
Wilton White Ready-to-Use Decorator Icing – 4.5 Tub (12 cups needed)
Wilton 8 pc. Icing Colors Assortment (blue, orange, yellow, violet and green used)
Disposable decorating bags
Decorating coupler
Decorating Tip #12 Round
Decorating Tip #32 Star
Decorating Tip #5 Round
3 shallow bowls
Wilton Mini Daisy Rainbow Royal Icing Decorations
Instructions:
Bake and cool cupcakes.
Tint icing.  
Tint 2 cups icing each blue, orange, yellow, violet and green. Reserve remaining icing white.  Prepare decorating bag with coupler and tip 12 (round) or tip 32 (star).  Fill with icing color of your choice.
Decorate cupcakes. 
Ice cupcakes with white icing. With tip on edge of cupcake, slightly above surface, squeeze bag, applying steady, even pressure. As icing builds, raise tip, but keep end buried in icing.  Slowly move tip towards center of cupcake, relaxing pressure to create desired shape. To complete, stop squeezing as you bring tip to center.
Pipe tip 5 (small round) dot in center and top with daisy icing decoration.
Tips on tips:
Tip 12 is a round tip and creates a smooth petal appearance. Tip 32 is a star tip shape and results in a ridged petal appearance.