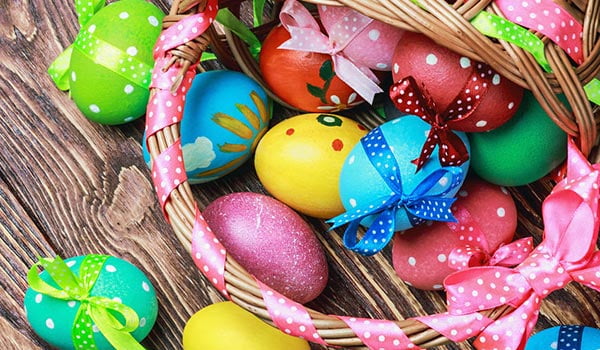 Modern Easter baskets have come a long way from the traditions of the 1700s, when German children would fill their bonnets with straw and leave them outside to be filled with eggs. Today, eggs are still a common fixture, but the Easter Bunny (aka Mom or Dad) is more likely to tuck an array of other treats inside baskets.
This Easter, go beyond the ordinary straw basket with these ideas for inspired candy carriers.
Lamb basket
For this easy spring basket, start with a medium-sized empty woven basket, plastic bucket or cardboard container, a Styrofoam egg, some craft foam and a bunch of cotton balls. After painting the egg white, cut out two "ears" from the craft foam and affix them into slits on the sides of the eggs. This will be the lamb's head. Next, use dabs of glue to cover the entire surface of the container with cotton balls. Attach wiggle eyes, a ribbon, and a couple of cotton balls to the lamb's head to bring it to life. Cut a longer strip of craft foam to use as a handle.
Goodbye, grass
Tired of the strands of boring plastic grass that seem to work their way into every nook and cranny of the house? This year, try a fun alternative for lining Easter baskets. Some easy ideas include shredded paper in pastel colors, Styrofoam peanuts, colorful marbles, the floral foam that is used in the bottoms of vases and green yarn.
Tissue basket
For an easy, economical basket in a pinch, decorate an empty tissue box with fabric scraps, lace, ribbons, glitter, or anything else you have on hand. Cover a strip of reinforced cardboard with lace or fabric and staple it to the sides of the box to create a handle.
Egg-cellent fillers
Instead of filling plastic eggs with jellybeans and other sugary sweets, stock them with non-edible miniature surprises. Some ideas include folded-up sheets of small stickers, jacks and marbles, miniature cars and high-bounce rubber balls.
Candy nests
Get some miniature wooden nests from Walmart (or make your own) and fill them with small chocolate eggs.With a little creativity and not a lot of cash, you can fashion an Easter basket they're not likely to forget.