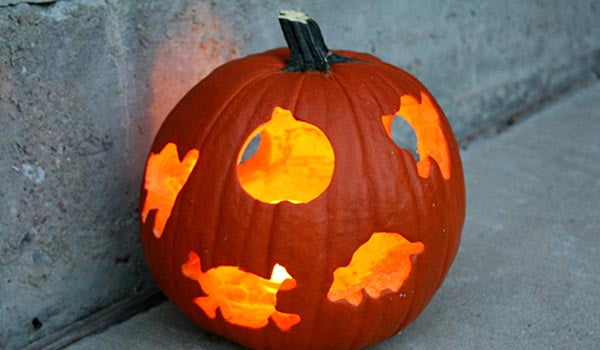 I'm awful at carving pumpkins, so I'm really excited at how great this project turned out. When it comes to pumpkin carving I really can't do anything freestyle.  All I can say is thank goodness they have pumpkin carving kits & patterns. If my kids depended on me to draw something, boy are they in for a surprise.
This year instead of carving an ordinary pumpkin I wanted to try something a little different. A couple months back I saw an idea on Pinterest that looked really cool. You take metal cookie cutters and hammer them into a pumpkin to make a cookie cutter jack-o'-lantern.
A pretty clever idea if you ask me, so the kids and I headed to our local Walmart and purchased everything we needed. When the kids were choosing a pumpkin I was glad to see that Walmart carried locally grown pumpkins.
The kids picked out two pretty good sized pumpkins. This is so much cheaper than if we bought them at a pumpkin patch. We grabbed a pumpkin carving kit. It came with all the tools needed as well as a variety of pumpkin patterns if you want to go that route instead.
This project requires metal cookie cutters, so I picked up a Wilton 3 pack of Halloween cookie cutters.  I found the cookie cutters in the holiday section where the party supplies are found. This project was really easy from start to finish, and it's the perfect Halloween project for younger kids.
Supplies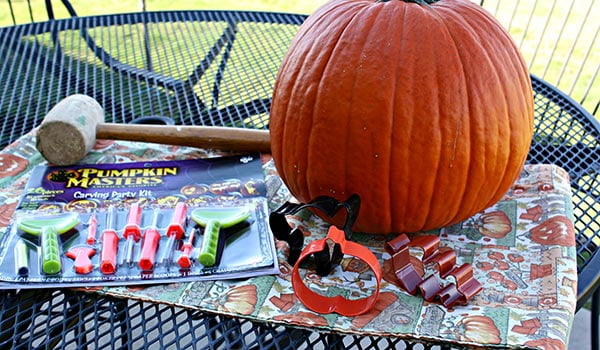 Large fresh pumpkin
Metal Halloween or Fall Cookie Cutters
Rubber mallet
Needle-nose pliers
Serrated saw tool & scraper from Pumpkin Carving Kit
Candle or flameless candle
Instructions
To start carefully cut out a circle at the bottom of your pumpkin. Lift out the bottom and using the scraping tool remove the seeds from the inside the pumpkin. (Save the seeds for roasting or planting)
Place a cookie cutter on the pumpkin and tap firmly with a rubber mallet until half of the cookie cutter has pierced the pumpkin's shell.
Using needle nose pliers remove the cookie cutter. It will take a couple times of pulling to get the cutter out.
Using the serrated saw from a pumpkin carving kit, follow the pattern made from the cookie cutter to cut out the image, make sure to cut all the way through. I poked mine up and down around the shape.
From the outside of the pumpkin, push in the pumpkin piece and discard. If the shell is thick you may need to use a regular hammer to gently hammer the piece through.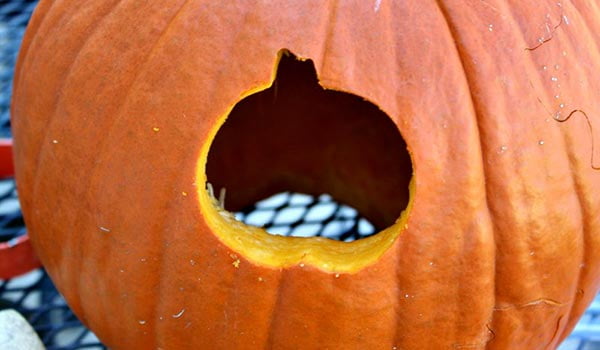 Place a candle inside your pumpkin and display at dark.
Story and images provided by Tina Butler of MommysKitchen.net, a Walmart Mom.