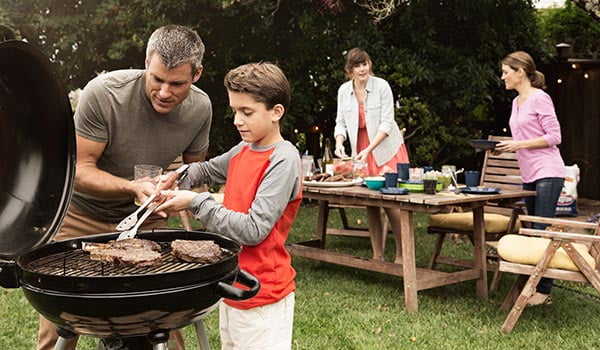 Selecting the right grill can be a daunting task, with literally thousands of different styles and sizes to choose from. To help get you started in the right direction, we've compiled the following guide to selecting the right grill for your outdoor cooking needs.
Charcoal versus gas
Gas versus charcoal is an often-debated subject among outdoor cooks. Although gas is fast, the smell and taste that a charcoal fueled fire adds to the cooking experience is irreplaceable. Plus the addition of wood chips and chunks such as hickory, apple, cherry and others can really take your flavor profile to new levels.
Construction
When it comes to selecting a new grill, the primary factor to consider is its construction.  While it is true that there are plenty of entry level grills on the market that will do just fine for a summer's worth of backyard grilling, the difference in its ability to withstand the strains of high heat cooking over time compared to models that cost four to five times more is unmistakable. Although the short-term investment is always an important consideration, models featuring thicker-gauged steel and a porcelain enamel finish are nearly indestructible, thereby making the need to replace them from season to season a virtual non-factor.
As a simple test, lift the lids on a lower-priced model and that of a slightly more expensive grill to compare the differences in the weight of the steel. Also take note of the finish on the grill, as those covered with high heat paint are much less inclined to hold up over time due to chips and rust versus powder coating or enamel finishes.
Size
Size matters greatly when choosing the right grill for your needs. On the small end, there are countless portable grills that fit easily in the trunk and provide just enough cooking surface for a camper, beachgoer or tailgater to grill a meal for one or two people at a time.
For most backyard grillers, however, a traditional kettle style grill with at least a 22-inch cooking surface is perfect for cooking up several hamburgers, hot dogs and/or steaks at once. While there are slightly smaller backyard options available, a greater surface area allows the cook a much broader array of grilling options including two-zone cooking (i.e., the creation of a hot and a cool zone through the placement of the charcoal briquets in order to allow for better heat control and minimize burning) and/or using the grill for low-and-slow smoking over indirect heat. Do take note, however, that some grills factor the size of a warming rack in to the advertised cooking area and do not accurately reflect the surface directly in contact with the heat source.
For those cooking for larger crowds, there are a variety of larger options available, but bear in mind that as the size of the grill increases, so to does the amount of fuel needed to heat it, so carefully consider how often you will actually maximize its larger cooking surface.
Ceramic versus steel
Although steel remains the most common material used in the construction of grills, ceramic Komado-style cookers such as the Big Green Egg or Komodo Kamado are becoming increasingly popular due to their ability to maintain constant temperatures for long periods of time. While costlier than a traditional kettle grill, the ceramic grill's versatility and fuel efficiency makes it an excellent option for those looking to cook both hot-and-fast and low-and-slow.
Grilling versus smoking
When browsing the outdoor cooking aisle of your local store, you are not only met with a variety of grill options, but a number of dedicated smokers as well. For most recreational backyard cooks, a traditional grill is just fine as the sole cooking unit as it can not only grill hot-and-fast but can be configured in such a way as to allow for smoking ribs, a brisket or a pork butt at low temperature for a long period of time. Those who tend to do more low-and-slow cooking, however, should consider a dedicated smoker which provides a larger capacity for meat. As with grills, there are several low-cost options available in the marketplace, but these are less likely to hold up over a long period of time due to the gauge of steel used in their construction and they tend to burn much more charcoal than fully enclosed smokers such as the Weber Smokey Mountain or a Backwoods smoker.
Custom smokers and grills
Visit any large tailgating event or barbecue competition and you are likely to see some very large and intricately painted smokers and grills. While not appropriate for most backyard grillers, custom built rigs from such manufacturers as Pit Maker, Jambo Pits and others will definitely make you stand out from the crowd. The same goes for large stainless steel outdoor kitchens. While they are a surefire showstopper at your next backyard bash, the food that you turn out on a solidly constructed, amply sized kettle grill will still rival any over-the-top models out there.